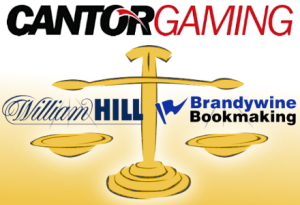 Nevada-based sportsbook and mobile gaming outfit Cantor Gaming has filed a lawsuit against former exec Joseph Asher. The suit, filed Tuesday in Clark County District Court, alleges that Asher breached non-compete and confidentiality obligations since leaving the company in 2007. Following his exit from Cantor, Asher formed Brandywine Bookmaking and Lucky's Race and Sports Book, which UK bookmaker William Hill arranged to buy in May for $15.7m. Cantor is asking the court to impose a constructive trust on the proceeds of the Brandywine sale, and to award unspecified damages.
The gist of Cantor Gaming's suit centers around allegations that Asher, who had worked with Cantor Gaming's parent company (Wall Street bond giants Cantor Fitzgerald L.P.) for over a decade as an outside attorney, accepted a limited partnership in a couple of Cantor's gaming-focused subsidiaries in Sept. 2004, and thus "became privy to Cantor's revolutionary ideas in mobile gaming and sports wagering." As such, the company claims Asher was bound by "stringent non-compete obligations."
Following three years of work to obtain Nevada gaming licenses and negotiate sports betting deals with casino operators, Asher quit Cantor in March 2007. Cantor alleges that Asher then "began a concerted effort to establish a gaming enterprise through the improper usurpation of proprietary ideas and corporate opportunities" that Cantor viewed as rightfully theirs. Cantor also claims to be concerned that Asher will now go to work for William Hill, and "attempt to divert" even more business away from Cantor.
In addition to acquiring Brandywine, William Hill also recently purchased American Wagering Inc. (AWI) for $18m. In addition to its retail sportsbooks, AWI operates Leroy's App, which allows Nevada residents to bet on sports via mobile devices anywhere within state limits. Through exclusive deals with multiple Nevada casinos, Cantor Gaming offers patrons the ability to place wagers away from the gaming floor via Cantor's proprietary eDeck device. (We sense a Highlander-esque "there can be only one" battle brewing between these two.)
In response to the suit, Asher noted that he "left Cantor over four years ago and Brandywine has been operating for over three years. Cantor didn't file its complaint until after we signed a deal to sell the company to William Hill. The timing says a lot. Any allegation that I have done anything wrong is ridiculous and totally false."