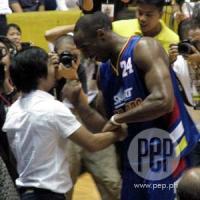 The showcase basketball exhibition held in Manila, Philippines, was more than just a basketball fantasy for hoop lovers, it was a celebration of both the basketball talent in the country and grand display of Philippine hospitality. The moment wasn't lost on the NBA stars in attendance, particularly the greatest player in the NBA, Kobe Bryant.
After the NBA Allstars defeated the Philippine Allstar team, Kobe Bryant told Philippine Daily Inquirer's June Navarro "It's been a tremendous honor to play here."
And that wasn't just lip- service. For the entire exhibition, fans came out in droves and for the NBA players who hadn't been to Manila before, they were probably shocked at how extremely high the basketball IQ of the Philippine fans was. It wouldn't have taken long for the NBA stars to realize how much they love their basketball in Manila.
Kobe Bryant certainly recognized it. Bryant said to June Navarro of the Philippine Daily Inquirer in his tribute to the fans, "Thank you for the love and support and the passion that you have in the sport…I hope this won't be the last."
The way talks are going with the NBA Lockout, that is, non-existent, it's quite possible it won't be the last time. What many NBA players are finding out is that there are places around the world like Manila, where fans know and love their basketball. The country is hospitable, there's no question some of the players must have realized that they can make a very nice life for themselves there if necessary, while the lockout drags on.
The NBA should have even more pressure to get it's act together or prepare itself to watch the NFL which just wrapped up their work stoppage, widen the gap even further.
There's definitely money to be made elsewhere for NBA players. Bryant himself received more than $400,000 for his weekend in the Philippines. For the fans that caught the show, it must have been priceless.
Here's some highlights from the weekend basketball top tier basketball exhibition in Manila.
Kobe doing work in Manila.

And, perhaps the highlight of the weekend.