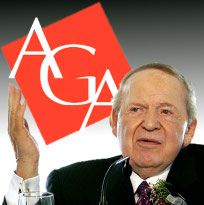 The American Gaming Association may not (yet) be backing any one particular federal online poker bill, but they have announced their three picks for the Gaming Hall of Fame class of 2011. Las Vegas Sands chairman/CEO Sheldon Adelson, along with the Blue Man Group and chef Charlie Palmer, will get their props at a ceremony at the Venetian Resort-Hotel-Casino in Las Vegas on Nov. 1. Previous inductees into the AGA's hallowed Hall include entertainers like Frank Sinatra, Wayne Newton and Don Rickles, businessmen like Donald Trump, Kirk Kerkorian, Jack and Benny Binion and members of the Boyd family, and even US Senator Harry Reid (D-NV).
Another esteemed member of the Hall is Steve Wynn, who got the nod in 2006. Wynn is currently the toast of political conservatives across the US for what was dubbed his 'epic' rant against President Barack Obama during a conference call with investors last Monday. Wynn referred to the Obama administration as "the greatest wet blanket to business and progress and job creation in my lifetime … Those of us who have business opportunities and the capital to do it are going to sit in fear of the President … It's Obama that's responsible for this fear in America … The business community in this country is frightened to death of the weird political philosophy of the President of the United States. And until he's gone, everybody's going to be sitting on their thumbs."
While conservatives are bulk emailing Wynn's words with the same glee they usually reserve for Photoshopped images of the first lady as a banana-eating gorilla, none of them seem all that interested in quantifying Wynn's wounds. So how bad have things got for the Wynnster? On Oct. 22, 2007, right before the subprime mortgage crisis kicked off, Wynn Resorts shares peaked at 164.65. This week, Wynn shares closed at… 165.25. Seriously, how does that bastard Obama sleep at night?
While it's true that Wynn now derives the majority of its income from its non-US operations in Macau, the graph below essentially dovetails with both the Dow Jones and S&P 500 indices. In other words, for big business in America, it's business as usual. So quit your whining, Wynnie.