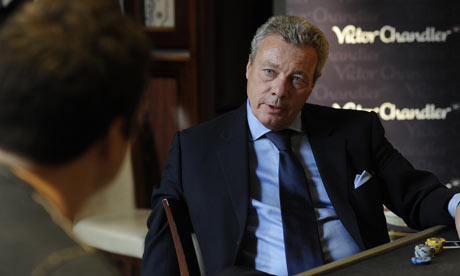 Victor Chandler is to rebrand its operations in Spain and drop the Mr. Apuestas moniker. Sick to the back teeth of not seeing his name up in the Spanish lights, the company will now be known as BetVictor in Spain. According to eGaming Review, it is part of a wider plan that will see the company re-branded as BetVictor in territories where they are currently know as VCBet. There really is nothing like seeing part of your name on a brand. VCBet was good but VC could be anything. Everyone's knows who the big V-I-C-T-O-R is though.
Fellow bookie Paddy Power is welcoming this week's Royal Ascot meeting with the launch of a new iPhone product. Bet and Watch gives punters who place at least a £1 or €1 bet the chance to watch the action via the Paddy Power App if they possess an iPad or iPhone. They can then find out if they've won any money ASAP and of course whether they're going to have to tell the wife that they've lost the house. The option will continue to be available after this week's Ascot meet but only covering races that are shown on the satellite channel At The Races.
A civil servant from Newcastle has become the latest player to win a cart-load of cash on Cryptologic's InterCasino. Winning £2.64million from a 90p on Millionaires Club Progressive Slot, 37-year-old David R is the fourth inductee since 2005.
InterCasino Head of Casino, Regis Pissot, said: "We are thrilled to see our most popular progressive slot delivering such a massive Jackpot. This is what it is all about: to offer online games that are not just making millionaires but multi-millionaires! At InterCasino, we boast the widest selection of progressive Jackpots, including: Jackpot slots (Millionaires Club I, II and III), Marvel Jackpot slots (The Incredible Hulk), Crazy Jackpot slots (Conan), Paramount Jackpot slots (Braveheart); and also Frightmare slots, Movie Mayhem slots and Rapid Fire slots. We even offer progressive Jackpots on some of our video poker games and on some table games like Blackjack and Caribbean Stud Poker."