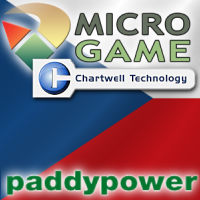 Chartwell Technology has inked a multi-year deal to provide leading Italian service provider Microgame with casino gaming products ahead of the Italian market opening up to casino action in Q3 2011. Microgame CEO Fabrizio D'Aloia said his company was "excited to integrate Chartwell's casino games" including its latest card game, Ultimate Texas Hold'em, and expects Chartwell's "popular content will yield great results in Italy." Microgame currently accounts for 27% of the Italian gaming market. Chartwell COO Dave Acorn says the Microgame signing "only builds on the tremendous momentum that we have experienced this year." In July, Chartwell shareholders will vote on their proposed union with fellow Canadians Amaya Gaming.
Paddy Power has tapped System Dynamics, one of Ireland's largest IT services firms, to implement Oracle's Financials, Purchasing and i-Procurement modules. Paddy Power has used Oracle to provide database software for its integrated point-of-sale system for five years now, and the new addition will allow the Irish betting behemoth to access real-time financial information in its Irish and UK operations as well as achieving significant savings in time and overall project costs.
A report in the Prague Post claims that France has one video gaming machine for every 18,000 citizens, while the Czech Republic has one for every 170 of its citizens. Last year, the Czech Finance Ministry stated that it would no longer approve video lottery terminals being placed near schools or hospitals, yet the Hospodářské noviny publication claims over 1,000 new machines appeared in such locations in the city of Brno between August 2010 and Febuary 2011. We get why you might not want them near schools, but what do they have against hospitals? I mean, if you're scheduled to go under the knife in the morning, is this not the precise time to throw caution to the wind and take a few risks?