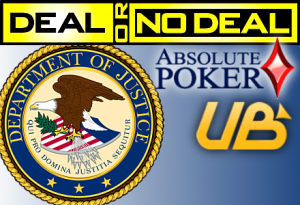 ✖ Absolute Poker and Ultimate Bet have issued a press release stating that they have reached an agreement with the DoJ similar to the ones previously reached between the DoJ and PokerStars and Full Tilt. According to the release, the US Attorneys Office has "agreed to provide all necessary assurances that third parties may work with Absolute Poker to facilitate the return of funds, currently held by third party processors, to players located in the US. This provision is an important step to returning US player funds." [UPDATE: Blanca Games subsequently issued a revised statement that removed the phrase "currently held by third party processors" from the above quote. All references to "third party processors" and "frozen funds" contained in the original document have been removed.]
However, payouts won't be immediately forthcoming. The release claims there are "several legal issues which must be navigated before funds can be paid out to US players." AP/UB will now "move as expeditiously as possible to establish proper mechanisms for the return of funds." AP/UB's law firm, Blank Rome LLP, "will continue to engage in discussions with the Southern District of New York in order to complete the necessary agreements for the final transfer of balances to our US players."
It's worth noting that when PokerStars and Full Tilt reached their agreements with the DoJ, the DoJ put out its own press release acknowledging the deals. No such acknowledgement has yet been issued regarding AP/UB, suggesting the deal has yet to be finalized. It appears that after a week of having to react to a lot of negative headlines, the AP/UB folks are desperately trying to gain a little more control over the narrative.
✖ The AP/UB release also states that AP/UB have told the DoJ that the companies have closed their US-facing operations, and "agreed to the cessation of real money poker play in the US. As such, Absolute Poker has not requested the return of its worldwide domain names, www.AbsolutePoker.com, www.UltimateBet.com and www.UB.com, and today's agreement does not provide for their return. The agreement also provides for the appointment of Monitor, approved by the US Attorney's Office, to assess the Company's compliance with the terms of the agreement."
Future compliance aside, there are reports that several familiar US avatars have been spotted as late as Tuesday afternoon still playing cash games on the sites. And both companies' banner ads continue to appear on gambling tabloid Gambling911.com – a site that is overwhelmingly US-focused. (Alexa.com shows G911's US traffic is nearly four times the size of the next closest country.) Two other sites that claim to have quit the US market – Sportsbook.com and BetUS – also have banners up on G911. Anybody care to start an over/under line on how long it will be before these companies realize that these ads tend to undercut their assertions of leaving the US market? Or have they convinced themselves that their wannabe Jedi mind-fuck is actually fooling anyone? Ironically, Lock Poker – which seemingly can't shut up about its decision to keep serving the US market — also appears alongside these other four sites on G911. Is owner Jen Larson bucking to be next in line for the DoJ's perp walk parade?
✖ Olman Rimola, formerly head of AP/UB's customer service operation Innovative Data Solutions (IDS), surrendered to Costa Rican authorities on Monday. Rimola was one of the principals sought in the Organismo de Investigaciones Judiciales (OIJ) raids last Friday (May 6). AM Costa Rica reports that Rimola was not jailed, but was ordered by a judge to sign in with authorities every 15 days and barred from leaving the country. Will Rimola's reappearance clear up questions over the missing millions owed to IDS' employees, which Rimola claimed were never allocated by AP, and which AP counterclaimed Rimola had 'misappropriated?' There's still no sign of the other individuals sought by the OIJ during the raids: AP/UB principal Scott Tom and the mysterious "lesser known party" Oldemar Vargas.
✖ John Pappas, exec director of the Poker Players Alliance, told a media teleconference that the amount of funds US players have on account with the three indicted poker sites could range anywhere from $100-500m. (Pappas himself claims to be out $56.) Pappas noted that PokerStars had already begun paying its US customers under the terms of the deal it struck with the DoJ, while Full Tilt had yet to do so "in any substantive form yet, although I think they're just working through some internal issues." Pappas sounded a far less bullish note on the fate of funds held by Absolute Poker, the future of which "remains a big question mark" due to its relative overreliance on the US market. "Losing the US market was probably a bigger hit to them than for these other companies. They are rumored to be going into bankruptcy. And it's unclear when or how players are going to be able to get their money back."
✖ American Gaming Association president Frank Fahrenkopf says his organization "supports strong law enforcement oversight and applauds the Justice Department for bringing charges against those companies that have shown no respect for the laws of the United States. Moreover, online gaming operators who fill this void will be even less regulated and less trustworthy than their predecessors, which will only hurt American consumers. That's why we need to use this moment to create a safe, regulated online gaming experience." Addressing reporters at the National Press Club, Fahrenkopf claimed to be working with unnamed members of Congress on hybrid legislation that would incorporate elements of federal oversight and state-level regulation. "At this point in time we are just in the preliminaries to determine what might and what might not be in it." Casino execs told the Associated Press that they intend to make their regulation pitch to White House officials and legislators in Congress over the coming days.