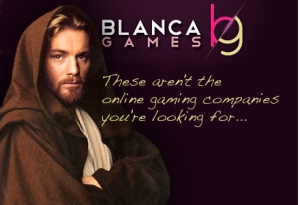 ✖ Blanca Games has released an official statement on Friday's raids by Costa Rica's Organismo de Investigaciones Judiciales (OIJ) of offices and homes connected to AP/UB and PokerStars. Blanca confirms that the OIJ "visited" the office of AP/UB's former customer service operation Innovative Data Solutions (IDS), but claims that the OIJ were looking for IDS' owner Olman Rimola, indicted Black Friday defendant Scott Tom and "lesser known party" Oldemar Vargas. Blanca says that "our understanding" is that the raids were not related to the Black Friday indictments, but "were driven by local investigations of a separate matter in Costa Rica that involves a concerted effort to locate and apprehend Rimola, Tom and Vargas for questioning in relation to a money laundering investigation." Hear that? Nothing to see here, folks… Now, move along, will you?
Until now, the narrative surrounding Rimola/IDS/AP/UB has been that of Rimola fighting with Paul Leggett to get AP/UB to comply with Costa Rica's strict labor laws regarding severance pay for terminated employees. An alleged email exchange between Rimola and Leggett hit the poker press earlier this week, which purported to show Rimola championing the cause of his CR staff. Blanca now suggests the exact opposite is true.
"Blanca has terminated its supplier contract with IDS after discovering that Rimola has misappropriated millions in IDS severance payments. The company is currently exploring all legal options available to recover the lost funds. Furthermore, Blanca is cooperating fully with the local Ministerio de Trabajo (Department of Labor Officials) in Costa Rica in order to coordinate an alternative method to remit all severance payments to IDS employees, thereby bypassing the facilities of IDS and Rimola to ensure that all obligations to former employees are fulfilled." For what it's worth, Blanca also claims its discussions with the DoJ on reaching a deal to allow the return of US players' funds are "ongoing."
Meanwhile, the 'last chances' TwoPlusTwo poster who claimed that AP/UB intended to stiff its US players in order to pay off its international players, has hit the forums with another claim, this one alleging that Leggett married his Costa Rican girlfriend shortly after Black Friday in a misguided attempt to immunize himself against extradition (though he has yet to be indicted, at least publicly, in the US). Again, we stress that CalvinAyre.com has no corroboration of these claims.
✖ Norwegian newspaper Dagens Næringsliv gave the Madeira Fjord (MF) fiasco front page coverage on Saturday. MF was a shell company set up to facilitate future debt payments to AP/UB shareholders. The newspaper report claims that Oslo City Court received an investigation request from MF's shareholders that claimed MF was not in compliance with Norwegian tax authorities. The newspaper identifies the Bull & Co. law firm as having been hired to shift the MF shell out of Norway to avoid a hefty tax bill, a claim denied by the firm's attorney Bjorn Blix. Attorney Lars Jorstad Francke, a former MF director, issued a terse 'no comment' when contacted by the newspaper.
✖ Andy McIver, CEO of Sportingbet, told the Daily Mail that he thinks online poker is a "fad." (We assume he then yelled at some kids to get off his lawn.) McIver also discussed his former apprehension over going anywhere near the US before the company reached a £21m settlement with the Department of Justice last September. McIver called the settlement "a no-brainer" because "if we hadn't done, people would have always thought that there was some reason why. And it paves the way for the future. We'd love to go back into the US if it opened up again, but we'd only go back if it was fully regulated." McIver dismissed rumors that Sportingbet was currently involved in merger talks with any other company, but admits the potential cost savings behind any such future move would likely be "compelling." Especially if it resembles the 2006 back-room deal in which Sportingbet sold its Sportsbook.com outfit to a shell company controlled by principals connected to the company for the token sum of $10, leaving minority shareholders out in the cold.
✖ Nevada has referred its proposed online poker bill AB258 to the Assembly Ways & Means Committee. Originally sponsored by PokerStars and introduced by Assemblyman William Van Horne, AB258 was gutted in a policy committee following Black Friday (and revelations of PokerStars' possibly illegal lobbying activities). All that remains is a proposal to establish a regulatory and licensing framework for, as Horne described it, "the inevitable time the federal laws will be changed to allow online gaming in the United States." The bill's original language would have prevented the state from denying PokerStars and any other 'bad actors' from receiving state licenses, but that was stripped away and replaced with a requirement for poker sites to partner with an existing non-restricted license holder or affiliate that had been in business at least five years.