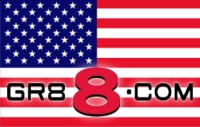 GR88, a microsite on the Sportsbook.com-owned Merge Gaming Network, has decided that it will no longer accept US players, although it claims the decision was reached prior to Black Friday. Spokesperson Charles Exeter told CalvinAyre.com: "We believe there is too much ambiguity and confusion with regard to the US legal situation and this prevents any company from providing US players with the online poker experience they deserve. In a free world, United States players would be permitted to play poker online and we look forward to the day when this can occur in a licensed and regulated fashion."
This marks a sharp turnaround from GR88's previous approach, which included boneheaded promotions aimed directly at US college students. Guess they've since realized that doing so was (a) providing anti-gambling politicians with easy opportunities to use their 'won't someone think of the children' material, and (b) the equivalent of emailing a photo of GR88 boss Peter Karroll's sphincter to US Attorney Preet Bharara with the caption "wish you were here."
Compare GR88's chastened approach with that of another Merge microsite, Lock Poker, whose owner Jennifer Larson has been treating Black Friday like it was her 21st birthday. Lock has always generated a lot of press releases, but a new one now comes out about every four hours; each one more outlandish than the last. The tone is so OTT, you half expect them to be accompanied by pictures of Larson flying through the sky on a rainbow-colored unicorn alongside a Lock Poker-branded space shuttle.
"… catapulted to fame … now the largest, most comprehensive online poker room in the world … one of the greatest stories of business success during these times … the company has gone from an unknown to a household name like Sony or Coca Cola."
(Coke may have played a role in these claim's origins, but not the carbonated liquid kind.)
This 'marketing by PR' strategy has even found its way back into the same PR releases, leading to claims that "Lock Poker has managed to establish a brand and get members without spending a single penny on advertising." (Or on its actual website, or on customer service, etc.) However amusing these claims might be to individuals without brain damage, Jennifer's other post-Black Friday claims are no laughing matter.
"Lock Poker … have been very happy … to meet the demands of the US population … the safest alternative for US poker players … fully regulated … they comply with the UIGEA so US players will not have any problems."
Hubris generally precedes a fall, and simultaneously misleading US poker players while extending a big middle finger to US authorities is setting oneself up for a swan dive into the Grand Canyon. There are ominous echoes of the BetOnSports case in Jen's non-stop PR mantra that online gambling is legal in the US and how US authorities have no way of interfering with operators who function outside the US banking system. BOS put out marketing materials that implied online gambling was legal in the US, which ultimately led to the DoJ slapping them with (among other things) a mail fraud charge. One wonders how long Merge will tolerate having one of their microsites paint the entire network with a giant red, white and blue bullseye.
Lest we appear too critical here, it seems we owe Lock Poker an apology. We have in the past suggested that Lock is run out of Larson's Vancouver condo and that she is Lock's sole employee. Lock is indeed run out of Jen's condo, but Pilar Catala, who previously worked with Jen at bankrupt eCom outfit First Web Financial, has reportedly 'locked' in a new position at Jen's fledgling outfit. (We tried to confirm this with Lock, but have as yet received no reply. Perhaps it will be in the next press release.) At any rate, this would mean there are now twice as many people huddled over Jen's kitchen table, searching the thesaurus for new ways of describing just how massive their company has become. We humbly suggest 'inflated.'
Comments