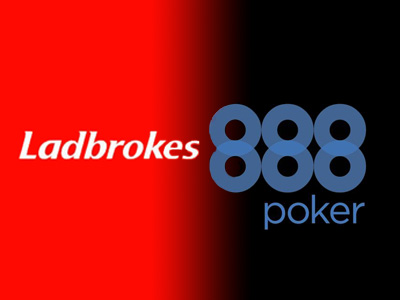 Reuters are reporting that talks are ongoing between two gaming firms over a possible takeover. There has been buzz about a possible deal between online gaming firm 888 and bookmaker Ladbrokes for some time. 888 made the comments after releasing results that saw a steep fall in earnings for 2010.
EBITDA for the year fell by a disappointing 37% to $28.6m (£17.7m) and meant that the company's shares on the London Stock Exchange were down by as much as 6.47%.
888 chief executive Gigi Levy said, "Following a challenging start to the year 888 finished 2010 strongly.
"888 has begun the year with strong current trading and continues to make good progress across all segments of the business."
The talk about 888 and Ladbrokes becoming part of the mergers/acquisitions/takeovers clique started back in December. By publicly stating that they're still very much merger friendly they must be really keen to find out what goes on in the clique. Just make sure you don't get blackballed guys – that would be embarrassing.
The world's second biggest gambling services provider has also released their 2010 results and it doesn't make particularly optimistic reading.
Bloomberg reports that Intralot SA profit dropped by 27% in 2010 and bet income for the period bottomed out at €36.6m compared with a figure of €49.8m the year before.
Group CEO Constantinos Antonopoulos, commented, "FY 2010 marks the completion of this expansionary phase as the Group has a large and healthy portfolio of projects that constitute a very significant asset. In the next few years we will focus on delivering value to our investors from existing projects by taking advantage of their full potential in terms of sales growth, by streamlining their operations and by improving our operating efficiencies."
The Greek group's EBITDA also showed a slight decrease of around 1.1% as they scrambled around for something to give everyone some optimism…and found the Consolidated Revenues increased by 23.5%. Well there's a lot more need to impress if you're known as "second biggest" isn't there?!