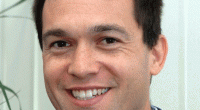 Yesterday the news that the merger between 888 and Ladbrokes is on the rocks wasn't exactly that much of a surprise to those in the know in the industry. Not on the rocks like vodka on the rocks, on the rocks like a marriage on the rocks. Today, though, is another day, meaning the companies involved are likely to come out fighting for the deal for 8pm.com (it's their bedtime you see.)
After tucking themselves up in bed with the customary cocoa after the scotch nightcap, it was time to get up this morning and fight their corner – the job being left to chief executive of 888, Gigi Levy.
The story was being reported over the weekend by many of the national papers as the shares have dropped drastically since Ladbrokes' original takeover proposal, but Levy is still buoyant.
"The talks are ongoing. It's a big deal for everybody," he said.
He then added that he would not be drawn on any "stumbling blocks" between the two companies, and said, "These are negotiations like any other negotiations between two companies. They take time."
There's been a twist on the 888 side of the discussions though, after the performance of Wink Bingo, acquired in December 2009, was so far ahead of expectations that the earn-out may need to be renegotiated.
Nick Batram, an analyst at Peel Hunt, told the Telegraph that the earn-out payment "could be as much as £48m cash and compares with the group's current gross cash position of $67m.
"We believe that the most likely outcome is a restructuring of the earn-out as opposed to an equity fund raising. Either way it is another factor that suggests 888 is not in a position of strength when negotiating a sale of the business," said Mr Batram, who has a "sell" recommendation on 888.
It doesn't look like getting any better for 888 any time soon, but as long as the negotiations are still ongoing, it must be a good thing, right?