Earlier this week, a news program on Chinese state television accused a subsidiary of Shanghai-based online games developer Shanda Interactive of involvement in online gambling activities. The Topics in Focus program featured a man identified only as Wang, who claims to have lost a total of RMB 767k (US $117k) in seven separate rounds of Hong Kong Poker (or Five Cards of Hong Kong Style, depending on the translation), a game offered by Shanda Bianfeng.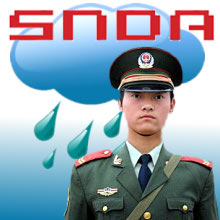 The TV program went on to accuse Bianfeng of promoting the use of and profiting from illegal virtual currency by tacitly approving the exchange of virtual currency for renminbi, transactions on which it collects a 1% commission. Wang told the program that despite Bianfeng's public anti-online gambling stance, "they turn a blind eye to the virtual currency market."
Following the program's airing, Bianfeng took the poker game offline and is now conducting an internal investigation. Bianfeng had been planning an IPO, but whether that's still on is anybody's guess. Still, the company must be relieved that Wang didn't follow the lead of an irate player of Shanda's popular game Legend of Mir 2, who set himself ablaze in Shanda's lobby in 2004 after the company stripped him of some of his virtual weapons — except his flame-thrower, apparently.
PRAYING FOR RAIN IN CAMBODIA
The Asian passion for gambling is well known, equaled only by the passion many Asian governments display for stamping out the practice. Cambodia is one country in the region in which gambling is illegal (outside of a Special Economic Zone along the border with Vietnam) but that hasn't stopped gamblers from finding ways to bet. A recent report in The Atlantic details the phenomenon of rain betting, an ideal market in a country that endures a six-month monsoon season.
It works like this: you can pick one of three daily time periods between 6am-6pm, and if rain falls during your wager window, you get paid. The early morning slot is the riskiest, but offers a substantial payoff if it hits. Conversely, the last time period's payoff is paltry, especially during monsoon season. You can even pretend you're a futures trader by betting against rain falling in a particular place at a particular time. Rain betting is ideal in that in requires no elaborate set-up of tables, cards or game pieces, all of which might need to be dismantled at a moment's notice in the event of a raid. However, it has spawned a cottage industry of cloud-watchers across the country, who call in updates by phone or walkie-talkie. Which only goes to show, no matter what the obstacles governments place in gamblers' paths, where there's a will, there's a wager.
MARINA BAY SANDS TAKES GAMBLER TO COURT
Finally, history is being made in Singapore, as one of the city-state's two integrated resort casinos is going to trial to collect on a gambling debt. On Friday, Marina Bay Sands asked the High Court to issue a summary judgment against 30-year-old Lester Ong Boon Lin for allegedly failing to pay his almost S $241k (US $191k) marker. The application for summary judgment was denied, meaning Mr. Ong (reportedly the son of a wealthy nasi lemak aka 'fatty rice' businessman) will get his chance to argue his side of the story in court. The amount in question pales in comparison to the $115m lost by two Asian whales in 2010, but a buck's a buck and a bet's a bet, whether you're whale or minnow.