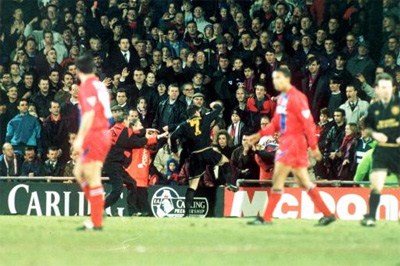 Every so often in sport there comes a player that has all the talent in the world. Then you start to discover that they have a darker side and are the kind of tragic hero that you can't help but warm to.
Soccer has seen its fair share of these over the years with the likes of Paul Gascoigne and George Best showing that gamblin', drinkin', and carryin' on is prevalent as ever in the national game. One man that divided opinion for the 90s was Manchester United's messiah Eric Cantona.
The Frenchman courted controversy wherever he went but comments to Britain's national broadcaster, the BBC, may have gone slightly too far today.
Back in 1995, during Cantona's most successful point in the red of United, he went into a fairly innocuous looking encounter at South London side Crystal Palace. Early in the second half Eric was sent off and in the melee that followed the red card he decided that trying out kung-fu on a supporter was what he would do next.
An eight-month ban followed and United lost the title to Blackburn on the final day.
Cantona's comments to the BBC were: "I think that may be it's like a dream for some people sometimes, to kick these kind of people. So I did it for them. So they are happy.
"It's a kind of freedom for them. So they speak about that because maybe they felt something special, physically. It's a great feeling but difficult.
"I've seen so many players scoring goals, [the fans] know this kind of feeling. But this one, a player jumping and kicking a hooligan, it's nto the kind of thing you see every day."
What might have been lost in all this is that by launching a violent attack on the certain fan, the escalating situation meant a supporter met his death underneath a bus at the subsequent FA Cup semi-final between the two sides later on in the season.
Being a fan of Palace, and attending the FA Cup tie, the tension around the game was arresting in itself and there's no question that the extra edge was put on the game by Cantona's actions. Then you try to fathom a reason why these comments were really necessary now, in a week when Celtic and Ranger played out one of the more forgettable Old Firm clashes of recent years.
The man had undoubted talent and is without doubt one of the best players to grace the Premier League but on this occasion both Cantona and the BBC have put one in their own net.
Comments