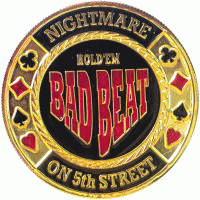 Leading online poker staking business, Badbeat.com, have announced a new "Bankroll on Demand" service.
The innovation will allow players more flexibility and they can be assured that it will give them extra security with players being able to decide how much of the bankroll they use across all Badbeat sites.
"With our new 'Bankroll on Demand' service, we're offering our players total flexibility with where they play, when they play, and how much of their bankroll they play with," explained Badbeat Managing Director John Conroy, "We'll get our players the funds they need, when they need them, so that they can focus 100% on their game, not the backroom admin."
In conference news, the organizers of May's EGR Live have today announced the addition of a number of different seminars.
The schedule for three of the nine streams at this year's event has now been announced, with the events for mobile, payments, and regulated markets released.
Topics included "Mobile Gaming: The journey so far," "Mobile payments," "The regulation map," "Payment fraud," and "Payments: next generation."
Sarah Sweby, marketing manager for EGR Live commented: "By dividing the programme into nine sector specific streams, visitors to EGR Live can benefit from extremely focused seminar content that specifically address the issues and emerging trends affecting their market, and really drills down into great detail on each subject."
This year's event is at the Business Design Centre and takes place from 3rd-4th May.