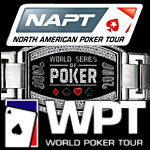 PokerStars has released details on the 2011 installments of some of the 10 different live tours they operate around the world. Season 2 of the North American Poker Tour will hit California's Bicycle Casino in Los Angeles March 5-10 and Connecticutt's Mohegan Sun from April 8-13. The Latin American Poker Tour will kick off Feb. 16-20 in Sao Paolo, Brazil and a fresh country, Colombia, will be added to the 2011 schedule. An entirely new series, the Eureka Poker Tour, focused on Euro/Balkan countries including Slovenia, Bulgaria and Croatia, will kick off in Prague in March.
The ninth season of the World Poker Tour (WPT) is set to debut on Fox Sports Net on Feb. 13. Beginning with the Bellagio Cup VI, the 26-episode series concludes July 31 and Aug. 7 with the WPT Championship (also at the Bellagio). Just some of the stops in between include the Borgata Poker Open, the Foxwoods World Poker Finals, the L.A. Poker Classic and Seminole Hard Rock.
PKR has inked a deal with the British Association of Mixed Martial Arts (BAMMA) that will see the UK poker outfit's branding prominently displayed at all BAMMA fights throughout 2011. Conversely, BAMMA branding will now invade PKR's poker rooms. PKR's players will also be given opportunities to win tickets to BAMMA events. Hopefully, BAMMA fighters will not be given the opportunity to smack the shit out of any poker sharks who put the fighters' chip stacks in a rear naked choke.
In one of the weirder news items this week, a player on Full Tilt with the screen handle "IHateJuice" has been forced to change his name. Despite the name being a common refrain amongst sports bettors who dislike paying surcharges, apparently some Tilt players felt the handle was a sneaky way to voice anti-Semitic sentiments. The fact that IHateJuice was based in Germany didn't help dispel these suspicions. Whatever the intent, Tilt compelled the player to change his screen name, and he/she is now listed as Kagome Kagome (the title of a Japanese children's game).
Ending on a more upbeat note, the winning bidder of Peter Eastgate's World Series of Poker bracelet has been identified as Scottish businessman/philanthropist William Haughey. The bracelet sold for £97k in November and Haughey apparently rounded that up to an even £100k when he presented a check to UNICEF rep Joanne Andrews and Man U's Sir Alex Ferguson (a UNICEF ambassador). In addition to his business and philanthropic activities, Haughey is no slouch on the felts, having earned over $275k as an enthusiastic poker amateur, with four WSOP cashes and a 2008 EPT side event title.