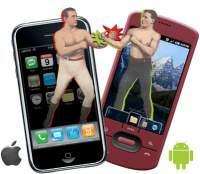 Steve Jobs and Apple are well on their way to create a world in which to function you must be living in the iHouse and your body needs the latest copy of iOrgans OSX in order to function. Thing is Jobs sometimes feels the need to let off steam and launch attacks on his competitors – it's for our own good people!
The backdrop is that Apple has seen its stranglehold on the smart-phone market being eroded by, amongst others, Android and Research In Motion (RIM). Jobs already launched an attack on RIM back in 2008 for having the audacity to name their device after another type of fruit and has now reserved his vitriol for Google's Android operating system.
On the day Apple announced record profits, Jobs was more bothered about the competition surely a clear sign they've got under his skin. Apparently by Android offering a number of places to buy apps from it's making everything a lot more complicated and the App Store is much more simple in this regard. This is obviously why supermarkets are doing so badly.
He also went on to rubbish Google's assertion that Android is in fact open whereas Apple is closed. It all comes weeks after predictions that Android will surpass Apple in mobile market share by 2012, and Full Tilt will be launching live online poker using Android. If you really want to play online poker just allow it on the iPhone, Steve. It's all pretty simple.
Comments