In Game 5 of the NBA Finals last season, Kevin Durant, playing for the Golden State Warriors at the time, suddenly went limp on the court. The two-time MVP had ruptured his Achilles tendon, an injury that would sideline him for the 2019-20 season. Already expected to be traded away from the Warriors, the injury may have played into where he finally ended up, and the Brooklyn Nets may have gotten the steal of a lifetime. However, the 6'10" forward isn't yet ready for game time and, even if the NBA picks up where it left off after suspending the season because of the coronavirus, Durant won't be suiting up.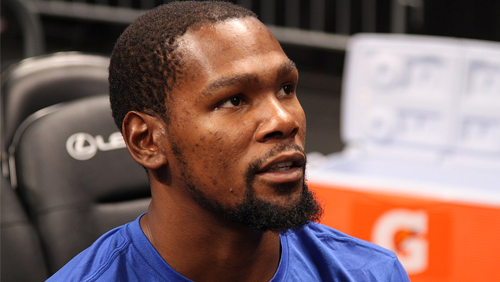 The initial idea was for Durant to finish his physical therapy and recuperation and be able to join the Nets sometime during the regular season. When the coronavirus hit, it was seen as a bonus for the star, as it would give him more time to recover. However, Brooklyn has a lot of money riding on Durant, and wants to make sure he's going to be available for the long haul, not just a few games.
Adrian Wojnarowski of ESPN confirms that Durant is out this season, no matter what. He asserts on his Woj Pod podcast, "Kevin Durant's not coming back to the Nets this year. That's not happening… They're not playing him."
When the Warriors were in the NBA Finals against the Toronto Raptors, the team expected the championship to be a slam dunk because of Durant. He soared through the first four games and, in Game 5, picked up 11 points in just the first 12 minutes of play. It was then, though, that he suddenly went limp, clutching his right leg. The diagnosis was grim, and he went under the knife two days later to try to repair the tendon.
Ruptured Achilles tendons typically require at least nine months for recovery and often result in reduced performance, as well as less playing time. By giving Durant additional time to recover, the Nets are hoping the $164.25 million they spent acquiring the player on a four-year contract in the off-season won't go to waste.
Rich Kleinman, Durant's manager, hasn't discussed returning to the court with the two-time NBA champ. He told Chris Mannix of Sports Illustrated, "I promise you, Kevin and I have not talked about (returning to play this season. And I know it sounds crazy, but my assumption has been that wasn't very realistic. I know when the time will be right to have that conversation, but it just hasn't been that time and it just doesn't feel like it's needed."
However, Nets GM Sean Marks has weighed in, stating that Durant will be back in action, but only when he's completely healed. He told NewsHub, "[Durant] knows his body better than anybody. Our performance team and training staff have done a tremendous job getting him to this point, but I just don't know how coming out of this pandemic will affect anybody, let alone Kevin."