You can't please all the people all the time and some just like to stir up the pot for lack of anything more constructive with which to bide their time. A new technology is coming that will make it easier for gamblers in a casino to keep their momentum going at the tables, but, hearing some of the negativity surrounding the technology, you would think the sky is falling. PlayOn allows gamblers to reload their chip stacks while sitting at a table and will soon launch in Las Vegas. However, not everyone's a fan.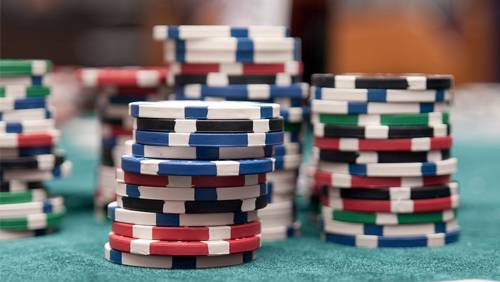 PlayOn is coming to the Palms Casino Resort after having gone through testing at the Red Rock Resort and Casino, according to a report by the New York Post. Instead of having to visit an ATM or cashier's cage when the chip stack dwindles, gamblers can essentially fill'er up while remaining at the table.
The executive director of the National Council on Problem Gambling (NCPG), Keith Whyte, isn't impressed. It's a safe bet that he's lost more than a couple nights' sleep over the technology and recently told Casino.org, "Innovations in gambling technology come with potential costs and benefits. Systems like PlayOn, that according to the company itself are designed to increase time and money players spend at the table, inherently are likely to negatively impact individuals with gambling problems."
PlayOn is the brainchild of Automated Cashless Systems, a company based in Reno, Nevada. It began testing the devices this past March and they don't provide unlimited access to money, which helps counter Whyte's argument. They do not allow credit card transactions, relying solely on the use of debit cards. They are also limited to withdrawals based on the card's maximum daily limit, which will help reduce the possibility of gambling away someone's life savings.
The co-director of the Institute for Gambling Education and Research at the University of Memphis, James P. Whelan, indicates that the negative sentiment surrounding the machines might be overstated because there hasn't been enough research into the devices. He believes that the gaming industry should study the implementation of new technology before rolling it out, but adds, "People worried about the harm that might be related to cashless play. Those worries have not come to fruition."
Boston College professor of finance Richard McGowan told Casino.org that the devices could actually help gamblers take a break and realize that it might be time to step away from the tables. He explained:
"They can view what they won but they will also realize what they could lose if they continue to play. Any pause in the action helps someone to think about what they are doing," adding "The machine will actually make the player pause and change the screen if the player is constantly losing. In other words, the machine will tell the player to stop and think about what they are doing."