To say that the race to become the 2019 WSOP Player of the Year was an intriguing race would be to present the understatement of the poker year. It had everything; Shaun Deeb and Daniel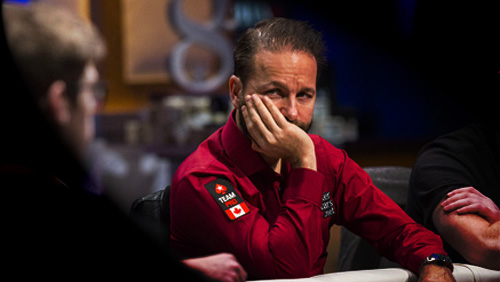 Negreanu going head-to-head across the world, multiple bracelet winners like Robert Campbell and Kahle Burns from Australia, old stagers like Phil Hellmuth and Chris Ferguson and the possibility of a late winner courtesy of surge to a final event win, such as Anthony Zinno's near miss.
Now, it has some extra controversy after the 115 WSOP events have finished.
Yes, with the winner's photo pics from the final event in Rozvadov not yet dry, the World Series of Poker have announced their mistake in awarding Daniel Negreanu too many points and therefore having got it all wrong. It turns out Robert Campbell is this year's champion.
Confused? Welcome to the club.
After Negreanu's Twitter celebrations put him on the plane home in the best of moods, 'DNegs' was likely 'DStraught' to learn that in Event #68 back in Vegas during the summer, he was awarded extra points by the WSOP after a staffer erroneously inputted the cashes from Event #87 for a portion of Event #68's totals, affecting not just Negreanu but over a dozen other players' totals.
After amending their miscalculation, the WSOP announced the winner of this year's Player of the Year title as the Australian player Robert Campbell.
We've been made aware of an error on the 2019 POY leaderboard. After verifying results and points, Rob Campbell (@SonicJaxx2019) is the 2019 POY.

We'd like to apologize for this error, and offer our sincere congratulations to Rob!

Please read our full statement below. pic.twitter.com/QqZaczMDJz

— WSOP – World Series of Poker (@WSOP) November 8, 2019
With the World Series highly embarrassed by the turn of events, there was a congratulatory message from Negreanu.
There was also a blog explaining his thoughts.
He also took to the Dat Poker Podcast to explain what happened:
Campbell himself was adamant that his fiercest competitor for the title would not have known about the error:
I just want to say thank you to everyone for their overwhelming support! Wow. What an insane 12hours. I for one completely refute the idea @RealKidPoker knew. I know he has his detractors but he loves poker too much to do something like this #wsop #poy

— Rob Campbell (@robcpoker) November 9, 2019
Demon! Erm, I mean Daniel. We will now lower you into the river tied to this steel chair. If you do not drown it will prove you are a witch and you will be burned at the stake #wsop #poy #spanishinquisition

— Rob Campbell (@robcpoker) November 9, 2019
He also took the time to outline his feelings in a statement:
Rozvadov: Closing Thoughts #wsop #poy #allthebirdswithonestone #hopethisformatworks pic.twitter.com/OSFYMkiM54

— Rob Campbell (@robcpoker) November 6, 2019
While the situation was awkward for all concerned, one man who had the right to comment was Shaun Deeb. Having believed that he needed to finish 5th to overtake Negreanu in the final event, he would finish 11th after taking an attacking line in a particular pot.
His comments after the announcement were inflammatory to some:
Two things Its amazing Daniel wouldn't bet on me with poy cuz he was afraid I would cheat when he's the one caught trying to cheat. Second the only acceptable move from @WSOP is co poy with me and @SonicJaxx2019

— shaun deeb (@shaundeeb) November 9, 2019
Negreanu dropped to third in the final standings, with Deeb a close second and Robert Campbell a deserved winner.
As it turned out, Negreanu was almost 100 points short of the amount needed to reach Campbell's target, but had Shaun Deeb known he needed to obtain just less than 43 more points, would it have played out differently?
As Ty Stewart hints at in the WSOP's statement, the World Series will surely be looking at improving their current Player of the Year model and modes in future years.
Final (Correct) WSOP Player of the Year standings:
| | | |
| --- | --- | --- |
| Place | Player | WSOP points |
| 1st | Robert Campbell | 3,961.31 |
| 2nd | Shaun Deeb | 3,917.32 |
| 3rd | Daniel Negreanu | 3,861.76 |
| 4th | Anthony Zinno | 3,322.00 |
| 5th | Phillip Hui | 3,186.17 |
| 6th | Dan Zack | 3,126.13 |
| 7th | Dario Sammartino | 3,091.03 |
| 8th | Chris Ferguson | 2,997.10 |
| 9th | Kahle Burns | 2,983.37 |
| 10th | Dash Dudley | 2,860.79 |