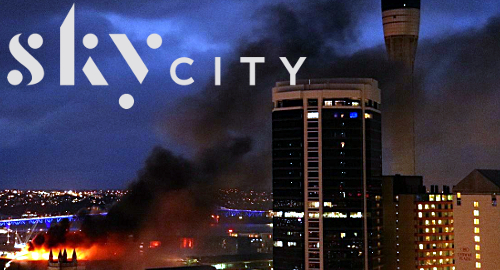 Casino operator SkyCity Entertainment Group's expansion efforts suffered a major blow after its New Zealand mega-project literally went up in smoke.
On Tuesday, New Zealand's largest city Auckland was bathed in thick black smoke after a fire broke out at SkyCity's in-development NZ International Convention Center in the center of town. The fire reportedly started on the roof of the unfinished project around 1pm and quickly spread.
As the fire grew, SkyCity ordered a "controlled evacuation" of the entire precinct, including Sky Tower (the country's tallest structure), SkyCity Auckland Casino, as well as all SkyCity hotels, restaurants and corporate offices. Fortunately, only one injury has been reported so far.
Every fire unit in Auckland rushed to battle the blaze, with additional units called in from neighboring Hamilton. Thick black smoke quickly spread across Auckland, prompting officials to advise individuals with breathing problems to stay indoors and switch off their air conditioning, while travel into the city center is being strongly discouraged.
The fire continued to burn through the night, fanned by stiff winds, with gusts of over 60 kilometers per hour. These gusts were expected to rise to up to 100km/h on Wednesday, which could complicate efforts to contain the fire.
Fire crews reported that they had no choice but to simply let the fire burn itself out, as the unfinished building didn't allow firefighters to access the roof without fears that their weight would cause the building to collapse in on itself.
The cause of the blaze remains unknown, although unconfirmed reports claim a workman using a blowtorch may have accidently ignited building materials. Other reports indicate that the worker left the blowtorch unattended before the fire broke out.
New Zealand's Prime Minister Jacinda Ardern planned to meet with fire and emergency personnel, as well as with SkyCity reps, on Wednesday.
News of the blaze caused SkyCity's share price to drop as much as 4% on the New Zealand Stock Exchange, although the shares recovered somewhat, closing out Tuesday's trading down less than 3% to NZ$3.87.
In its most recent annual financial report, SkyCity indicated that its convention center – which was forecast to cost around NZ$700m – wouldn't likely be finished until the end of 2020, with the hosting of its first events to follow early in 2021.