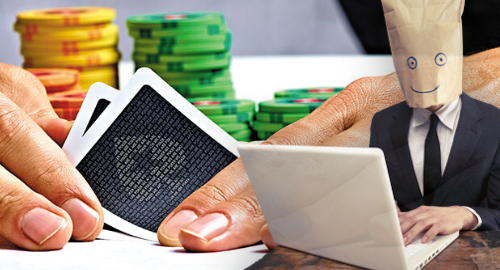 The Stars Group's flagship online poker brand PokerStars is dipping its toe into the anonymous poker pool, in a reversal that appears at least partly based on boosting the company's flagging poker revenue.
On Thursday, PokerFuse reported that PokerStars plans to test out a number of anonymous tables in the coming months, ending the site's longstanding insistence on each of its customers being permanently wedded to a single screen name that was always visible to their poker opponents.
The screen names behind the players at these optional anonymous tables – which will reportedly be listed under 'stealth' in the Stars lobby – will be made available to players in hand histories 24 hours after game play. This is ostensibly intended as a means of ensuring that the games were on the up-and-up but will also allow the data to be imported into third-party tracking software.
PokerStars director of poker innovation and operations Severin Rasset told PokerFuse that Stars was "always working on new features and products" and this commitment now extended to "some anonymous tables," which Rasset said would be monitored "very closely as the overall player experience and health of our poker ecosystem is top priority for us."
As is reversing Stars' downward trajectory, both in terms of active player counts and the revenue generated from same. TSG's recent quarterly earnings reports have grimly chronicled the world's top poker site's decline, which the company has blamed on a variety of factors, including "continued disruptions and regulatory headwinds" in its grey/black markets such as Russia, Switzerland and Norway.
But the overall online poker market has been in decline for most of this decade, with the odd rare exception such as the Kindred Group's Unibet brand, which has managed to eke out modest quarterly revenue improvements (although it remains the very least of the company's gaming verticals).
Much of this decline can be blamed on third-party tracking software and heads-up displays (HUDs) that enable users to reduce their game play to a simple mathematical equation. This has allowed sharp players to feast on weaker opponents, resulting in a perpetual draining of the player pool that has weakened the overall poker ecology.
This negative trend was first identified at the turn of this decade by online gambling operator Bodog (which was founded and operated by one Calvin Ayre until his retirement from an operational role in the gaming industry several years prior). Bodog Poker launched anonymous tables way back in 2011 as a way to create a more level playing field for recreational players, who are the lifeblood of any poker network.
Bodog's anonymous tables were greeted with howls of outrage at the time, but most good ideas are initially controversial only to prove their worth over time. Nowadays, most major poker operators offer at the very least the option to play anonymously, although Phil Galfond's Run It Once site is so far the only one to follow Bodog down the fully anonymous path. Like we said, these things take time.