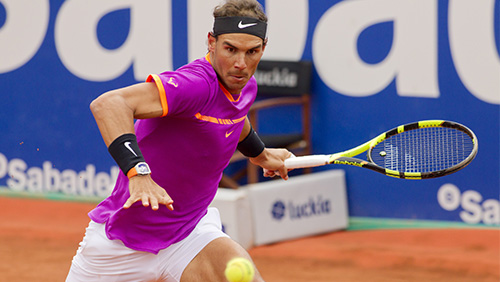 Some of the best fights are the ones that drag on. Wilder vs Fury was incredible because it went all 12 rounds. Arsenal vs. Manchester United was a rivalry that inspired hatred because of the context behind the two clubs' spats throughout history. It's the same with Nick Kyrgios' curious beef with Rafael Nadal and vice versa. We love it because it just won't go away.
Yesterday, the ATP Tour put out a video of Fernando González smashing a ball into Radek Stepanek at a fair rate of knots.
Ouch 😳😬 pic.twitter.com/8YkicLw2Dv

— ATP Tour (@atptour) September 14, 2019
In case you missed it, and he has deleted it since, Kyrgios sent a tweet as he retweeted the video:

Back in the summer, of course, Kyrgios aimed a particularly snappy forehand directly at Nadal during their second round Wimbledon match which Kyrgios would lose 3-6, 6-3, 6-7, 6-7.
He made absolutely no apologies for aiming for Nadal.
It wasn't the only controversial moment in the match, with Kyrgios inducing the ire of the crowd and a raised eyebrow from the Spaniard when he served underarm to the 19-time Grand Slam champion. That's also well worth a watch:
So what is it that rubs Kyrgios up the wrong way about Nadal, and why does the Australian get Rafa's goat?
Kyrgios' major problem with Nadal is something that has largely been glossed over for years by fans who adore his never-say-die spirit and battling qualities as well as his phenomenal skill.
It's a matter of timing.
Rafael Nadal's bouncing of a tennis ball between serves is so laborious that fans have gone to collect drinks from the bar, forgotten their wallets, come back, bought the drinks and had time to wolf down a packet of cheese and onion in the time between service points. Grown men have gone from clean shaven to heavily bearded in the time it takes the Majorcan maestro to position his squash bottle between games.
Kyrgios is not a man who likes to wait around.
During the Cincinatti Open earlier this year, Kyrgios was fined $113,000 after ranting with the umpire about Nadal's incessant time-wasting and four other incidents of unsportsmanlike behaviour, including the smashing of two racquets. Nadal did not forget this exchange.
Though Nadal was as sporting as he could be after eliminating Kyrgios from Wimbledon, calling him a great competitor and a tough challenge, the delight he took in winning the feisty four-set classic was palpable.
When Kyrgios beat Nadal in the Mexico Open, it kicked open a huge can of worms. The pure dislike between the men was evident I the post-game press conference when Nadal stated:
"He is a player who has ginormous talent. He could win Grand Slams and fight the top positions of the ranking[s], but there is a reason why he is where he is. He lacks respect for the public, the rival and towards himself."
Kyrgios didn't take it lying down, putting a message up on his Instagram that taunted:
"Don't doubt yourself, there are plenty of people who will do that for you." Kyrgios trolled. "I can smell the blood when I play this dude."
It is 4-3 to Nadal in terms of the two men's meetings on all surfaces, not a glorious record for the Grand Slam champion against a man 25 places lower than him in the current ATP Tour Men's Tennis rankings.
Whoever you root for in this most mismatched yet fascinating of bitter rivalries the sport has to offer, one thing is certain. Whenever they play each other next, you need to be watching. Fireworks are absolutely guaranteed.