The gambling numbers out of Macau may not be as impressive as many had hoped for this year, but this doesn't mean that the city isn't receiving a significant amount of foot traffic. According to Macau's Statistics and Census Service and data it published yesterday, tourism to the city is on the rise with a 20.6% year-on-year increase over the first six months of 2019. A total of 20.3 million arrivals were logged from January through June.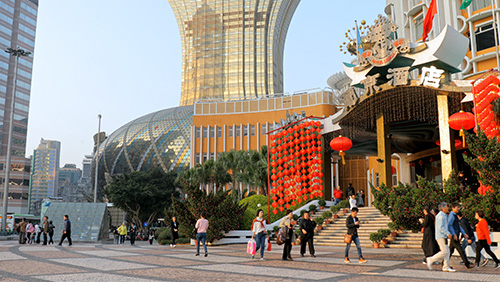 A total of almost 10.8 million single-day visitors descended on Macau during the first half of the year. This represents an increase of 34.2% over the same period last year. Those visitors wishing to spend a little more time in the Asian City of Lights, staying at least one night, increased by 8.2% year-on-year to reach just under 9.5 million.
Individuals only popping in for one day hung around for about five hours, while the overnight visitors typically stayed for around 2.2 days. The average length of stay considering all visitor segments worked out to be about 1.1 days, or 0.1 less than the first six months of 2018.
As is typically the case, the largest percentage of visitors to the city came from mainland China — 14.3 million for a 22.3% increase over the same period last year. Just under half of these, 6.8 million, made their trip using China's special visa program, the individual visit scheme (IVS).
June was one of the best months for Macau's visitation, as it saw an 18.9% year-on-year increase with 3.1 million people arriving for some R&R. Of these, Chinese mainlanders comprised 2.1 million, or 19.9% more than the first half of last year. IVS permit holders accounted for 931.260 of these, which is a 14.9% increase from last year. Most of the mainlanders came from the Guangdong and Hunan provinces, 924,000 and 96,300, respectively.
After mainland China, Hong Kong provided the next largest visitation segment in June. 623,114 visits were recorded from the SAR for a 24.3% year-on-year increase. Taiwan provided 94,078 entries — 1.3% more than last year — and South Koreans provided an uptick of 5.1% to 60,753.
The new Hong Kong-Zhuhai-Macao Bridge that opened last year is beginning to show signs of real life. Land arrivals, including those that crossed the bridge, swelled by 51.5% over last year to 2.2 million. Air and sea arrivals, though, were considerably lower, with ferry arrivals dropping by just over 36% to 545,063.
As the visitation in June increased, so did the casinos' gross gambling revenue. It was up 5.9% year-on-year to $2.96 billion, marking the second consecutive month the revenue has seen improvement. During the earlier part of the year, gambling activity was not as high as expected, but it appears that the casinos are staging a comeback.