Sejin Park became the second South Korean to win a World Series of Poker bracelet this series after taking down the COLOSSUS, and Nicholas Baris overcomes a 70% heads-up chip deficit to win a $1,000 No-Limit Hold'em event.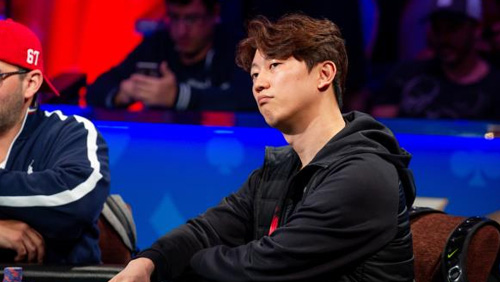 On Monday, South Korea's military sent fighter jets scurrying into the sky to investigate an 'unidentified flying object' flying near the North Korean border, a day after the North Korean leader Kim Jong-un met with the U.S. President, Donald Trump.
The military later told the South Korean press than the UFO was nothing more than a flock of 20 birds, but our sources at CalvinAyre.com inform us with some accuracy that the UFO was Sejin Park, who was still flying high after his victory in Event #61: COLOSSUS – $400 No-Limit Hold'em.
Park, a cash game grinder from Macau, was visiting the World Series of Poker (WSOP) for the first time when he flicked in the $400 and took down the $451,272 first-prize after conquering a field of 13,109-entrants. He becomes the first Korean to win a WSOP bracelet, in an open event, and the second of the series after Jiyoung Kim won the ladies event earlier this summer.
Speaking to PokerNews after his win, Park said that he didn't expect much from this tournament given the size of the field, before thanking Kim, for supporting him on the rail, alongside his other buddy.
"I would talk strategy during the break with them, and it was a tremendous help," said Park.
The most recognised face at the final table was Andrew Barber who won the $10,000 H.O.R.S.E Championship in 2015. Barber is an ambassador for Raising for Effective Giving (REG), the meta-charity created to reduce suffering in the world, but that didn't stop him from suffering when he hit the rail in the fifth position.
To win the bracelet, Park had to overcome Georgios Kapalas in heads-up action. The South Korean began with a 2:1 chip lead, and used it to treat Kapalas like a pumpkin seed rolling around a mortar and pestle, grinding him down to nothing after Kd2c flopped trips when all-in against the slightly superior As3h.
Final table results
1. Sejin Park – $451,272
2. Georgios Kapalas – $278,881
3. Ryan Depaulo – $208,643
4. Juan Lopez – $157,106
5. Andrew Barber – $119,072
6. Norson Saho – $90,838
7. Patrick Miller – $69,757
8. Maksim Kalman – $53,925
9. Diego Lima – $41,965
Three other stars of the game who wore kimonos, pipes and slippers late into this thing were bracelet winners Jeremy Ausmus (35th), Nicholas Haynes (52nd) and Tom McEvoy (93rd).
Nicholas Baris wins Event #68: $1,000 WSOP.com ONLINE No-Limit Hold'em Championship.
The online fields at the WSOP continue to swell like teenage gums with Event #68: $1,000 WSOP.com ONLINE No-Limit Hold'em Championship pulling in a field of 1,750-entrants.
Two names stood out amongst the pack with David 'Bakes' Baker making his second final table of the series (he finished 5/996 in $2,500 No-Limit Hold'em), and the 2017 WSOP Player of the Year, Chris 'Jesus' Ferguson, also making his second final table after finishing 3/116 in the $10,000 Razz Championship (Ferguson played on his iPad whilst also competing in a $1,500 No-Limit Hold'em event).
Bakes and Ferguson may have the star power, but it was Tara Cain who looked the likeliest to win this thing for most of the final table. Cain has. World Series of Poker Circuit (WSOPC) online gold ring somewhere in her jewellery box, and in 2017, she finished runner-up to Thomas Cannuli in the 424-entrant $3,333 No-Limit Hold'em Online High Roller.
Cain would have been desperately trying to avoid a second crushing disappointment, especially when she began heads-up with Nicholas Baris, holding 70% of the chips in play. Poker can send you into North Korean airspace, but it can also drop you deep into graveyard silence, and that's what happened to Cain, as Baris chipped away, doubling up with tens against ace-nine before queens beat nines for all the chips, all the chops and the bracelet.
Final table results
1. Nicholas "Illari" Baris – $303,738.75
2. Tara "bertperton" Cain – $187,530
3. William "TheBurrSir" Lamb Harding – $113,332.50
4. David "YoungPitts" Baker – $96,092.50
5. Jason "LuckDuck" Lawhun – $69,991.25
6. Jack "Mr. Yang" Maskill – $51,703.75
7. Chris "Camdi" Ferguson – $38,736.25
8. Ryan "PlzCumAgain" Jones – $29,260
9. Antonio "karma007" Guerrero – $22,443.75