The conference semifinal rounds of the NBA playoffs are televised by TNT and ABC/ESPN. Those networks paid billions of dollars each for the rights to the NBA. Thus, when the networks ask for certain things in terms of setting up the playoff schedule, the league basically does whatever they want.
Odds courtesy of OddsShark.com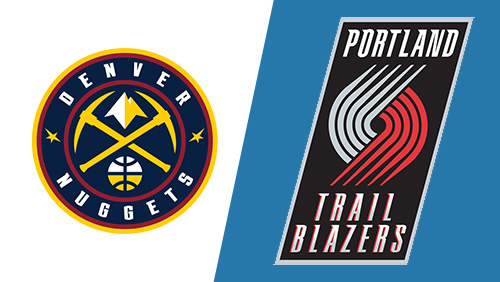 We mention this because there's just one conference semifinal matchup on Wednesday night simply for TV reasons and it's from the Western Conference: third-seeded Portland Trail Blazers at No. 2 Denver Nuggets. The hosts are 3.5-point favorites with a total of 218. Up 1-0, Denver is also a -240 series favorite with the Trail Blazers at +200.
One half of the storyline entering this series was that Portland clearly had the better backcourt with Damian Lillard and C.J. McCollum – Lillard is going to be All-NBA again this season and was magnificent in the first-round domination of the Oklahoma City Thunder. He vastly outplayed point guard counterpart and former league MVP Russell Westbrook.
The second half of the storyline was that the Nuggets appeared to have a major edge in the frontcourt led by center Nikola Jokic – he's also going to be All-NBA (maybe first team) and averaged nearly a triple-double in the seven-game first-round series win over the San Antonio Spurs. The Blazers are especially vulnerable down low after losing center Jusuf Nurkic (a former Nugget) in late March to a season-ending injury.
Both storylines hit in Game 1, a 121-113 Nuggets victory. Jokic scored 37 points to go with nine rebounds, six assists, three steals and two blocks while making all 12 free throws. He was unstoppable. In doing so, Jokic became the fourth player in franchise history with multiple 35-point games in a single postseason, the last being Carmelo Anthony. Denver also got 19 points and six rebounds from power forward Paul Millsap.
Lillard was equally good with 39 points, but he was just 4-for-12 from deep, had six turnovers (he was often picked up defensively full court) and the Blazers were outscored by six points with him on the court. It was Lillard's 14th career 30-point playoff game, tying the franchise record set by Hall of Famer Clyde Drexler. McCollum was a bit off, held to 16 points and 7-for-17 from deep.
Portland has been starting Enes Kanter at center in these playoffs with Nurkic out, and Kanter had 26 points and seven rebounds despite playing through a separated shoulder. However, he's a defensive liability in a big way and that showed. The Blazers have covered just one of their past six games overall in Denver.