Tom 'durrrr' Dwan joins Jason Koon as a brand ambassador of Triton Poker ahead of the series' spectacular in Montenegro.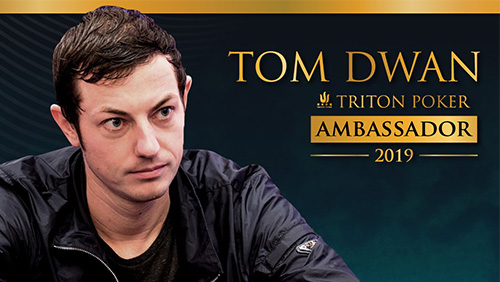 Fish.
Sharks.
Whales.
Fish analogies and poker seem to go together like Richards and lion hearts.
Here's another one for you.
Tom 'durrrr' Dwan began his poker life as a grain of sand. Dwan picked the game up playing for fun with his college buddies. He then ventured online, creating the 'durrrr' alias, and depositing $50.
When a grain of sand enters an oyster, it treats it as an intruder layering it with nacre until it becomes the perfect pearl. When 'durrrr' began robbing the rich and the poor to grow a bankroll to the tune of $2m, there's no doubt about it; the man was the most unwanted intruder of his generation. There is also no doubt that Tom Dwan became one of poker's most exquisite pearls.
And the man is back.
Since Dwan's dalliance with the Full Tilt renaissance ended, sightings of poker's pearl have been as rare as a monster underneath your bed. Whenever we did see Dwan, there was always one common denominator – Short-Deck.
Dwan appeared with Phil Ivey to promote the game of Short Deck during his time playing live cash games in Asia, and eventually became a regular duellist in the high stakes series that brought Short-Deck to the world – The Triton Poker Series. The two are a perfect match, and yesterday, Triton announced that the pair had put rings on fingers.
Tom Dwan becomes the second player to represent Triton as a brand ambassador after Jason Koon joined the team ahead of the first event of 2019 in Jeju.
Speaking of his appointment, Koon told the press, "I'm thrilled to be in the company of Tom Dwan as a Triton Ambassador. When I began my journey as a poker player, Tom was already crushing the biggest games in the world. When the poker action started booming in Asia Tom was one of the first to dive into the action. He's one of the most exciting players to watch, and play against, and I can't think of a better addition to the Triton roster."
Dwan makes his first official appearance as a Triton brand ambassador during the Triton Poker Series in Montenegro, and he'll be busy, as the organisers plan to host the most extensive series since the birth of the brand, with ten events culminating in an HKD 1m buy-in No-Limit Hold'em Main Event and an HKD 1m Short-Deck Ante-Only Main Event.
If you want to watch the poker pearl shine, then keep tabs on the Triton Poker Series social media feeds where you'll catch him competing in tournaments and the cash games on the best live stream in the world.
In the meantime, here's a little taste of what's to come in that Montenegrin festival.