In a surprise announcement, the new Marina Bay Sands tower, being built in Singapore, will not include gambling as part of their operations, according to a statement provided by an executive with the resort casino. This release was provided by George Tanasijevich, President and Chief Executive Officer of the Marina Bay Sands Pte Ltd, a subsidiary of the Las Vegas Sands Corporation.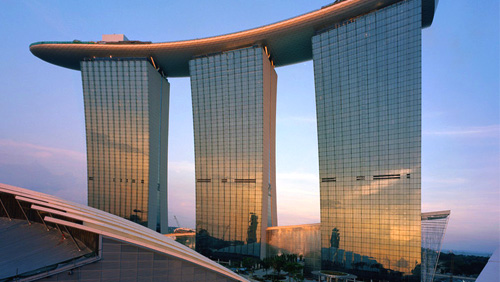 On April 3, the government of Singapore had allowed their two casinos to expand operations by imposing higher taxes on gambling revenue. It was expected that this would raise an additional $6.65 billion by the end of 2030, which would add a significant amount of revenue in taxes to the government.
However, the new fourth tower, which is being built at a cost of SGD4.5 billion, will not include gambling as part of the operations. It will contain a 15,000 seat arena as well as 1000 luxury suites and a sky roof, but gambling operations will not be included.
Instead, gambling operations may increase in the current casinos located within the Marina Bay Sands other three towers. The current plans include a 13.3% increase in the total amount of gambling space allotted to the Marina Bay Sands, which should provide up to 17,000 square meters of space.
According to Tanasijevich, the company felt that it was more appropriate to use the current locations within their three towers to increase gambling, instead of adding gambling to their new tower. Sands intends to use its new tower for customer accommodations.
It appears that an agreement with the government of Singapore may be behind the move. According to the CEO, the expansion of the Marina Bay Sands was only allowed by the government if certain milestones were reached in terms of completion of the fourth tower. By opting to increase their gambling in their current operations they can begin increasing the size of the gambling area as each milestone is met.
Currently, the Marina Bay Sands has 2600 hotel rooms available and is reporting an occupancy rate of somewhere between 94% to 99% on a regular basis. The exact timeline of when the new tower will be completed has not been set, but the milestones imposed by Singapore's government will likely act as an impetus to keep the company on track.
As part of the new construction, it is expected that 63 existing suites will also be remodeled. This is scheduled to begin later this year and should be completed by the end of 2019.