The 2019 NCAA Tournament was incredibly chalk through the Sweet 16, but there's just one top-seeded team standing for Saturday night's Final Four from U.S. Bank Stadium in Minneapolis. That's South Region champion Virginia. The Cavaliers face No. 5 Auburn, the surprise Midwest winner, in Saturday's first game, with Virginia a 5-point favorite.
Odds courtesy of OddsShark.com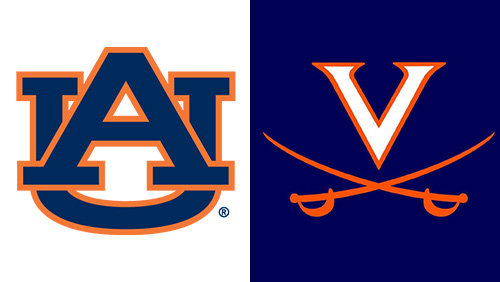 UVA also is the slight favorite to win its first-ever national championship on Monday night and thus should be favored against the winner between No. 2 Michigan State and No. 3 Texas Tech, although injuries or blowouts could change a potential title game spread. Neither Virginia nor Auburn has ever played for a national championship, with the Tigers in their first-ever Final Four.
Virginia has been known for its (Pack Line) defense under Coach Tony Bennett, with the Cavs again leading the nation in points allowed this season at just 55.4 points per game. They play a plodding type of game. It should be a clash in styles because Bruce Pearl's Tigers like to play up-tempo and average 80.1 points per game, firing away at will from three-point range. Almost half of Auburn's field-goal attempts this season came from deep.
Both schools are very fortunate to be here as Auburn probably should have lost in the first round to New Mexico State, and Virginia needed a minor miracle to force overtime and then beat Purdue in the Elite Eight. One huge bright spot for the Cavs in that victory was leading scorer Kyle Guy breaking out of a slump with 25 points.
Auburn is at a disadvantage health-wise as sophomore forward Chuma Okeke tore his ACL in the Sweet 16 win over North Carolina in which he dominated with 20 points and 11 rebounds. On the season, Okeke put up 12.0 points, 6.8 rebounds, 1.8 steals and 1.2 blocks in nearly 30 minutes per night. The Tigers haven't lost a game since February 23 at Kentucky.
In terms of common conference opponents, Auburn spanked North Carolina 97-80 in the Sweet 16, and lost 78-72 to Duke and 78-71 at NC State early in the season. Virginia won at UNC 69-61, lost twice to Duke (by two and 10 points) and beat NC State twice (by one in OT and by 20 in the ACC Tournament). UVA has played one SEC school this season, winning by 17 at South Carolina in December. The Gamecocks were 1-1 against Auburn.
It's the first meeting between the Cavaliers and Tigers since December 2009.