partypoker MILLIONS South America has begun with two Brazilian victories in the Rio Open and No-Limit Hold'em 9-Max, respectively.
Maybe they called 'Brazil Nuts' 'Brazil Nuts' because the people in Brazil are nuts. I'm thinking the more gazelle-like glory of the game, than the asylum sort of nuts.
Think of a football commentator and 'Gooooooooooaaaaaaaaaaaaalllllllllllll!!!!!!!!!!!!' coats your lugholes in a mist of insanity. Football doesn't have the monopoly on this pantomime of the pleasures. Anyone who has witnessed a Brazilian rail at the World Series of Poker (WSOP) knows that this enthusiasm is present from the ponytail through to toe jam.
So kudos to partypoker for setting up the MILLIONS Big Top slap, bang in the middle of all the madness. Poker and Brazil are going places. The Brazilian government recently changed immigration rules allowing US citizens to roam around for 90-days without a Visa, and Donald Trump and Jair Bolsonaro have signed a preliminary agreement that will one day enable US spaceships to launch from Brazil's Alcântra Launch Centre near the equator. Tom Waters, Rob Yong, and John Duthie are more than light years ahead of the competition; they're even preparing for poker on the moon.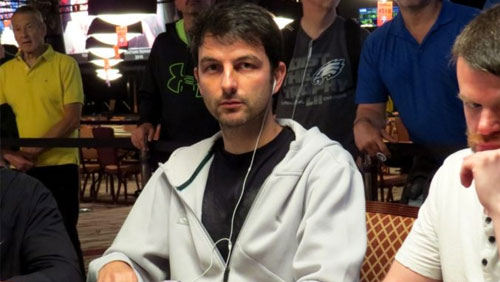 Before we get covered in stardust, let's remain rooted on planet earth for a minute, and take a peek at the MILLIONS South America Rio Open – the opening event of the festival.
With a buy-in of $1,100, and a $1m Guarantee, the Rio Open is some serious shit, and 886-entrants, thought so, clawing and clambering through six starting flights, and an online leg. By my calculations that means the team missed the guarantee, but I only got a 'C' in GCSE Mathematics.
282-players made it through to Day 2, and 38 to the final day, which took an incredible 17-hours to complete. I know poker players love to play poker, but that's taking things a stretch too far. Stare at the beauty of Orion's Belt for long enough, and soon all you see are holes in a big black bag.
The final 15 all received a $10,300 MILLIONS Main Event seat, which I thought was a nice touch. Of the last nine, three players stood out aside from the eventual winner.
Sam Grafton was the headline act, and he came into the final with a cosmic MILLIONS background after finishing 5/1015 in last season's MILLIONS UK for $271,012. Grafton would make it to the end zone, where his victor accused him of tiring too early. Put down War and Peace and get some kip, Grafton.
It wouldn't be a final table without the presence of a German, and the deck selected Anton Morgenstern in that role. The Aussie Millions AUD 25,000 Challenge winner finished sixth.
Lastly, Thiago Crema De Macedo (what a name) also came into the final table with a history worth repeating after winning two World Series of Poker Circuit (WSOPC) gold rings, and in 2016 finishing fourth in a $5,000 No-Limit Hold'em event at the WSOP for $162.924.
The winner, Enio Bozzano, was no mug himself. Before this event, the Brazilian had won $567,802 playing live tournaments, winning two of them. Bozzano's most illuminating moments including a sixth-place finish in a $3,000 No-Limit Hold'em event at the World Series of Poker (WSOP) for $111,619, runner-up to Fernando Brunca Garcia in a Brazilian Series of Poker (BSOP) High Roller earning $76,167, and a 14th place finish in last year's WSOP Millionaire Maker for $64,552.
Bozzano took the title after a heads-up battle with Grafton that lasted three hours.
Here are the final table results.
Final Table Results
1. Enio Bozzano – $187,200
2. Sam Grafton – $113,776
3. Peter Chien – $78,000
4. Nazar Buhaiov – $52,000
5. Alejandro Lococo – $36,400
6. Anton Morgenstern – $26,000
7. Mario Fernandez – $18,200
8. Thiago Crema – $13,520
Three other former poker pupils who became poker masters long ago who ran deep in this thing were the former MILLIONS Warmup winner, Gerald Karlic (9th), the 2019 Global Poker Index (GPI) Player of the Year frontrunner, Rainer Kempe (41st), and the former European Poker Tour (EPT) Main Event winner, Tom Middleton (55th).
Ariel Celestino Wins the 8-Max
The score is Brazil 2 The Rest of the World 0, after Ariel 'Bahia' Celestino conquered a field of 191-entrants in the $550 buy-in No-Limit Hold'em 8-Max event.
Kenney Hallaert was the standout name on the final table. The Belgian star, nominated for a Global Poker Award for his duties as a Unibet Tournament Director, also cashed in the Rio Open finishing in 43rd place.
Celestino is an accomplished performer with over $1.5m in live tournament earnings passing through his mitts, including a PokerStars Latin American Poker Tour (LAPT) victory back in 2011.
Here are the final table results:
Final Table Results
1. Ariel Celestino – $23,200
2. Alfred Werner – $14,378
3. Kenny Hallaert – $10,545
4. Stefan Bittger – $8,436
5. Celso Luis Sirtoli – $6,591
6. Edward Oliver – $5,273
7. Ondrej Drozd – $4,218
8. Mauricio Zeman – $3,427