Perform, the complete sports content provider, has announced two major operators as launch partners of its new real-time Fast Player Statistics Feed, powered by Opta, the world's leading provider of live, detailed sports data.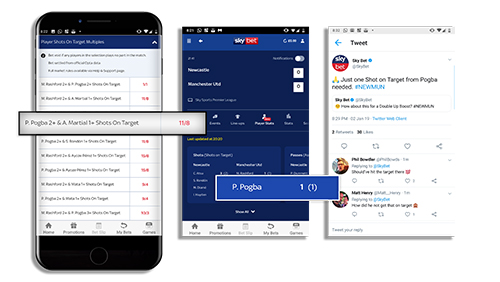 The new feed pushes high frequency in-play statistics like shots, passes and tackles to operators who can now automate pricing, live trading and fast settlement of player and team prop markets. The feed means player and team stats can now also be incorporated at scale into bet-builders and request-a-bets, for the world's biggest football competitions and players. Detailed stats are also shown updating as they happen to the operators' customers.
Sky Bet and bet365 are the first operators to offer their customers in-play products powered by the new fast player data.
Sky Bet accompanied their launch with a promotional campaign announcing 'In-play, as you've never seen it before'.
John Harlow, SVP Betting Perform, said: 'If you're a bettor following in-play events like shots, tackles and passes, it's like you're watching an entirely new game. Goals are still the most important thing of course, but shots happen ten times as frequently as goals, and from a wider spread of players, so the new Opta feed has given a way for operators to create compelling new player-focussed experiences that occur throughout the 90 minutes. It's a new level of entertainment for their customers, even throughout a 0-0 draw.'
Operators can either ingest Opta's fast player data directly to power their own trading, or use pricing providers accredited to use Opta's data such as Sportcast and Banach.
Andrew Ashenden, Perform Chief Commercial Officer, said:
"Perform's expertise in both fast data for in-play trading (via RunningBall) and deep data (via Opta) means we're uniquely placed to create a fast player statistics service that operators, fans and bettors can trust.
Fans and bettors the world over are accustomed to seeing data like shots, passes and tackles collected in line with Opta definitions across media and broadcast.
A lot of work goes into the collection and preparing this detailed data for betting use and we're delighted with how partners and now bettors have reacted. I'm proud of what our teams have built and the reaffirms Perform's commitment to providing the sports industry with innovative, engaging and quality products that power exceptional fan and bettor experiences."
More information: https://www.optasports.com/sectors/betting-gaming/fast-player-statistics/ 
About Perform
Perform is the complete sports content provider, and the B2b division of DAZN Group. With over 1500 employees in 30+ global territories, we work with our partners and customers to change the way people experience sport around the world.
We create, collect and distribute cutting-edge sports data via Opta, performance data and tools to drive on-pitch success through OptaPro, sports news and content through Omnisport, and high-quality betting content through RunningBall and Watch and Bet, all of which are underpinned by our globally trusted integrity operation.
By delivering more content, quicker, more accurately and in more detail than anyone else, we allow our customers to create experiences that engage fans and drive revenues.