The penultimate round-up from the Aussie Millions with Bryn Kenney winning the Main Event, and Cary Katz taking down the AUD 100,000 Challenge.
Bryn Kenney has one goal: to reach the summit of The Hendon Mob All-Time Money List.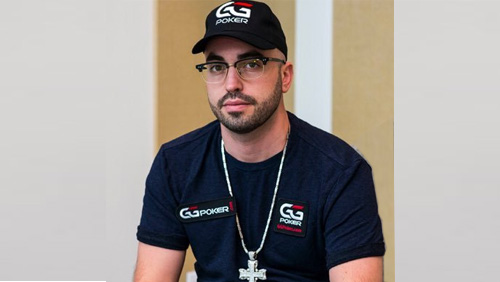 He's two steps closer.
Kenney has won 17-titles all over the world. Until this weekend, he'd never steamed the windows of the Crown Casino; a runner-up finish in a Pot-Limit Omaha (PLO) event, three-years ago, his only showing.
When the win came, it was perfect.
The Aussie Millions Main Event pulled in a record crowd for the second successive year, and it was Kenney who turned the final table short-stack into a win, in the 822-entrant event.
Final Table Set Up
Seat 1: Mike Del Vecchio – 5,465,000 (109 bb)
Seat 2: Andrew Hinrichsen – 5,300,000 (106 bb)
Seat 3: Hamish Crawshaw – 3,640,000 (73 bb)
Seat 4: Gyeong Byeong Lee – 1,540,000 (31 bb)
Seat 5: Matthew Wakeman – 4,010,000 (80 bb)
Seat 6: Bryn Kenney – 920,000 (18 bb)
Seat 7: Clinton Taylor – 3,845,000 (77 bb)
Six players; one thought – "Don't double up Kenney."
They did.
Twice.
After Hinrichsen had eliminated Crawshaw in seventh place AJ>QQ, Kenney doubled, first through Del Vecchio when his AJ beat A2, and then through Lee winning a flip AK>JJ. Lee's remaining chips went to Hinrichsen when JT beat AK thanks to a ten on the flop when all-in, pre-flop, and by this time, Hinrichsen had more than double the chips of his nearest combatant.
Wakeman exited fifth after a cooler saw his pocket queens run smack, bang, wallop into the pocket aces of Clinton Taylor.
Hinrichsen – 11,325,000
Taylor – 6,435,000
Kenney – 4,800,000
Del Vecchio- 2,025,000
Taylor hit the rail in fourth after losing a flip to Hinrichsen AK<99 to end a tour de force of a run that saw the pub game grinder turn a $130 satellite into $350,417.
Moving into the three-handed action, Kenney had a lot of work to do.
Hinrichsen – 15,910,000
Del Vecchio – 6,400,000
Kenney – 2,935,000
Then came a vital double up for Kenney after moving all-in holding A5dd in the small blind, and Del Vecchio calling, and losing from the big blind, holding K7dd.
Hinrichsen – 15,365,000
Kenney – 4,870,000
Del Vecchio – 4,830,000
With three players left, Del Vecchio took the chip lead when his quad sixes got maximum value from Hinrichsen, who was unfortunate enough to river a straight. Then Kenney then scrapped and scraped his way into a chip lead that would change hands over the next hundred hands, until the three sat down and negotiated a deal, turning the conclusion of the most prestigious tournament in the Southern Hemisphere into a damp squib.
Kenney wouldn't budge.
He wanted the win.
The pair gave it to him.
The $923,269 that Kenney collected means he's now earned $26,623,758 in live tournament earnings, good enough for a ninth place finish. Dan Smith drops out of the Top 10, and Phil Ivey takes tenth – only another $19m to go, Bryn.
Final Table Results
1. Bryn Kenney – $923,269*
2. Mike Del Vecchio – $922,953*
3. Andrew Hinrichsen – $796,410*
4. Clinton Taylor – $350,417
5. Mathew Wakeman – $275,908
6. Gyeong Byeong Lee – $224,180
7. Hamish Crawshaw – $175,571
*Indicates a three-way deal
Cary Katz Wins The AUD 100,000 Challenge
Unlike the Main Event, the AUD 100,000 Challenge didn't break any records, but it's still a significant moment in the Aussie Million's strive to regain their position as one of the high roller capitals of the poker world.
The event pulled in 42-entrants, the third largest field in the festival's 14-year history, and Cary Katz topped the field to capture the $1,066,867 first prize after beating Johannes Becker, heads-up.
It's the second time Katz has won a major High Roller outside of the ARIA (he is the king with 53 ITM finishes), after winning the $100,000 at the PokerStars Caribbean Adventure (PCA) last year for $1,492,340.
Three people deserve special mention apart from Katz.
Rainer Kempe's fourth-place finish arrived after three wins (a $10k & $50k at the PCA, and the AUD 25,000 earlier this week). Jack Salter cashed three times at the PCA including a third in a $25,000 event, and four times at the Aussie Millions, including three final tables. And it was fantastic to see Bicknell firing multiple bullets into an AUD 100,000 field. Poker's highest echelon has been missing a female bastion since Vanessa Selbst left the game to join Bridgwater Associates.
Katz took the chip lead into Day 2, and despite sharing it several times throughout the final day, never inched out of the top five chip counts. By the time the final table came into view, the Global Poker Index's (GPI) best male and female players held the senior positions in Bicknell and her beau Alex Foxen.
Foxen's grip loosened in the following hand.
With blinds at 15k/30k, Foxen opened to 65,000 from early position, and Jack Salter called in the hijack seat. Both players checked to Fourth Street on Td7h3hKd; Foxen checked, Salter, bet 95,000, and Foxen called. The 5s fell on the river, Foxen checked for the third time, and Salter moved all-in for 366,000. Foxen burned through multiple time extension chips before making the call with pocket sixes for the fourth pair, and Salter showed pocket aces for the win.
One level later, and Foxen jammed for 480,000 from the big blind over a Becker button raise, and the German called. Foxen showed A2o, Becker revealed pocket eights, and the eights held.
Bicknell would make money before her tournament expired, and coincidentally, the Canadian held the same hand as her other half when she moved all-in for 15 big blinds holding A2dd, and Kempe called and won with KQ after turning a king.
Salter hit the rail in fifth place after shipping 20 bigs with pocket eights over an open from Katz, who was holding AQo, and an ace and queen hit the flop to send the Brit spiralling out of the competition.
Kempe's amazing Aussie Millions ended with a fourth-place finish after a cooler saw him run AQdd into the pocket kings of Passet. The German went on a little run after the elimination of Kempe, taking the chip lead, until Katz found pocket aces to double into the lead AA>66.
Katz never surrendered the lead after that point.
Becker set up a heads-up squabble with the Poker Central founder when his pocket queens beat Passet's ATo when all-in, pre-flop, but he never had a look-in. The final hand saw the pair get it on with Katz holding pocket nines, Becker holding K2cc, and the king stayed in the counting house counting out his money.
Katz has now won $18.4m in live tournament earnings.
It was his first-ever win on Australian soil.
Final Table Results
1. Cary Katz – $1,066,867
2. Johannes Becker – $681,610
3. Abraham Passet – $444,528
4. Rainer Kempe – $325,987
5. Jack Salter – $329,280
6. Kristen Bicknell – $207,446