Toby Lewis is making Melbourne his home once again, after winning the AUD 50,000 Challenge a few days shy of finishing runner-up to Rainer Kempe in the AUD 25,000 Challenge.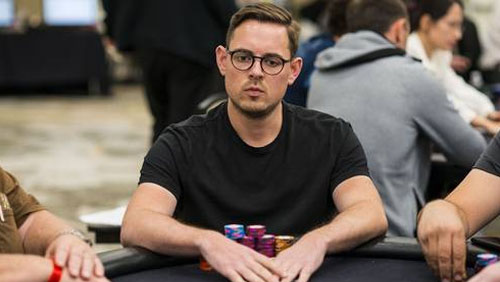 When four people turned up to compete in the 2018 Aussie Millions AUD 50,000, while the rest of the tribe scurried around the rail like shady looking shrews, I thought the Aussie Millions High Roller scene looked as tasty as an overdrawn bank account.
Oh, what a difference a year makes.
151-entrants rained down on the AUD 25,000 Challenge like confetti at a wedding, and Rainer Kempe defeated Toby Lewis to win the title after the pair cut a deal and moved all-in blind.
Could the step up in class blow out a similarly sized candle?
You bet.
The AUD 50,000 Challenge checked in at 62-entrants, resulting in an impromptu Day 3 with that man Lewis once again threatening the sprinkler system of the casino because of his heat.
Seat 1: Bjorn Li – 847,000
Seat 2: Toby Lewis – 1,040,000
Seat 3: Dominik Nitsche – 464,000
Seat 4: Manig Loeser – 605,000
Seat 5: Thomas Muehloecker – 144,000
Thomas Muehloecker was the favourite to exit in the fifth place but did marvellously well to ladder up two more rungs before losing his footing and ended up with the dead leaves.
The Austrian used Bjorn Li's back as a bunky up, doubling through the Australian twice, once when KQo beat pocket treys when all-in pre-flop, and a second time when the pair turned a flush with Muehloecker's nuts looking smoother than the second nuts of Li.
It wasn't Li's day.
The only Australian to make Day 3, got it in good on the turn with a two pair hand against the one pair hand of Toby Lewis only for the man from the UK to river a better two pair hand to send him to the rail in fifth place.
Then our two German competitors clashed with fatal consequences when Manig Loeser's pocket tens beat Dominik Nitsche's A5o, and Lewis would take a big lead into heads-up against Loeser after eliminating Muehloecker 66>AK, turning a set when all-in pre-flop.
The heads-up action began with Lewis holding a 2.7m v 362k chip advantage, but Loeser proved a difficult man to put down. The German star doubled JJ>QQ when he hit a four-flush on the river, and the pair were even when Loeser doubled for a second time after his pocket nines held against pocket eights.
At this point, the pair agreed upon a deal that saw Lewis securing $588,999, and Loeser $556,017, and went all-in blind with Lewis's J2 beating 93 leaving all of us wondering why Lewis doesn't play more of these things.
When Lewis visited Melbourne in 2018, he left $1.1m the richer after winning the largest-ever Aussie Millions Main Event. After his most recent trip, he has secured another $1.1m, after his two superb performances in the High Rollers, and making the final table of Event #3: AUD 1,200 No-Limit Hold'em Shot-Clock Shootout, finishing ninth, with the AUD 100,000 Challenge to come.
Final Table Results
1. Toby Lewis – $588,999*
2. Manig Loeser – $556,017*
3. Thomas Muehloecker – $296,856
4. Dominik Nitsche – $233,244
5. Bjorn Li – $169,632
6. Tobias Ziegler – $148,428
7. Michael Zhang – $127,224
*Denotes a heads-up deal