You know what they say about form and class, one being a temporary state and the other being a permanent manner of someone's being? Jorryt Van Hoof proved the old adage to be true when he mopped up yet another win at the 2020 Aussie Millions this week as he emerged victorious in the A$25,000 buy-in Pot Limit Omaha Challenge.
The Crown Casino has seen many great champions over the previous 21 years of poker action, but few could have been as popular as the effervescent Dutch player who only recently became the top-ranked tournament player in his country's history.
🎉 Huge congrats to @Jorryt_van_Hoof on becoming the new #1 Dutch All-Time Money List after finishing 2nd in the #EPTPrague € 25k NLHE
🥇 @Jorryt_van_Hoof $5,288,007
🥈 @MarcelLuske $5,049,057
🥉 @Petedekorver $4,094,677
📸 @PokerCityNL pic.twitter.com/By823nZoWl

— The Hendon Mob (@TheHendonMob) December 13, 2019
With the Aussie Millions A$25,000 Pot Limit Omaha Challenge giving the Dutchman a massive score of A$467,280, this latest victory only cements his place as Holland's number one, and that it was done at a super-tough table including overnight chip leader Hun Lee was all the more impressive.
Best known for his phenomenal run in the WSOP Main Event of 2014, Jorryt Van Hoof's name was sung around the Rio on many an occasion that summer, with the unforgettable anthem 'Van Hoof! Van Hoof! Van Hoof is on fire!' echoing around the Thunderdome.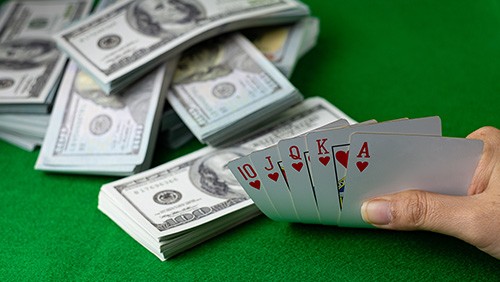 Five years on, Van Hoof is less known, with the modest Dutchman not having stepped up to super high rollers or even high roller events as often as his fans may have liked to have seen. He has, of course, become his country's leading tournament player, however, and it took a lot more victories than merely his WSOP result to haul him past the singing Dutchman, Marcel Luske, who led when we last recounted Holland's finest.
Van Hoof had to battle a lot of elements to capture this latest trophy, the miniature but no less magnificent ANTON Aussie Millions Championship ring. Hun Lee's lead was such that the final table looked for a long time like a procession the other players were watching float past them, simply trying to hang on to the coattails of the Australian.
When the final day started, players such as Sylvain Loosli and Xue Wu were still involved, but both had departed by the time the final table was reached, British WSOP bracelet winner – in a $25,000-entry PLO event no less – Stephen Chidwick busting Tam Truong to bring about the final nine.
While Lee still held the lead at that stage, Chidwick was gaining on him, and the chip leader decided to push for the win. Two eliminations by Lee burst the bubble, with Ben Pockett in 9th place and Miroslav Sheynin in 8th place finishing without profit.
Lee was in control, and that showed no signs of letting up, with a nut flush on the flop enough for him to bust the Colombian player Farid Jattin in 7th place. With Lee on a roll, he took out Fabian Brandes in 6th place too, two pair on the river enough to render The Austrian player's pocket aces as useless as the worst holding in the deck.
Van Hoof needed to improve, and he made a sizeable move when he was the player to bust Chidwick. In doing so, the Dutchman elevated his stack and removed the most dangerous player at the table in many railbirds' opinions.
Lee was back in charge when he busted Martin Kozlov, but Lee's chances were damaged when he lost two crucial pots to Najeem Ajez, who also hailed from the home country. Van Hoof would bust Ajez, hoovering up enough chips to go into heads-up with a lead, but a dramatic hand saw that turned on its head when Van Hoof's trips were bettered by Lee's full house. However, Van Roof rallied, and would lead again by a ratio of 2:1 when the chips went into the middle for the final time.
This time, his trips were improved to a Full House on the turn, and with Hun Lee drawing dead, the stage was Van Hoof. On fire? Maybe. In the form of his life? Quite possibly.
Aussie Millions A$25,000 PLO Challenge final table results:
| | | | |
| --- | --- | --- | --- |
| Place | Player | Country | Prize |
| 1st | Jorryt van Hoof | Netherlands | A$467,280 |
| 2nd | Hun Lee | Australia | A$297,360 |
| 3rd | Najeem Ajez | Australia | A$198,240 |
| 4th | Martin Kozlov | Australia | A$155,760 |
| 5th | Stephen Chidwick | United Kingdom | A$113,280 |
| 6th | Fabian Brandes | Austria | A$99,120 |
| 7th | Farid Jattin | Colombia | A$84,960 |