Two stories from the beginning of the World Poker Tour Borgata Winter Poker Open including a victory for Pascal Zaklama in the $600 buy-in Kickoff, and Barry Leventhal winning his third senior's event since the start of 2018.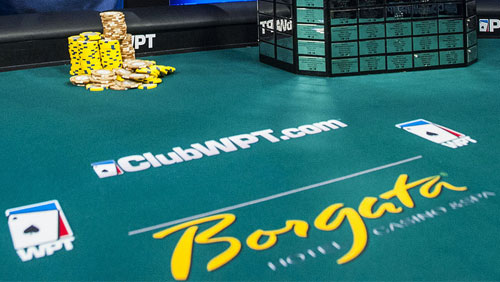 It's what poker is all about, folks.
Where else in the world can you spend $600 on a bit of fun and walk away with close to $400,000 and a lifetime of stories to tell.
The 2019 World Poker Tour (WPT) Borgata Winter Poker Open is off to a cracking start after Pascal Zaklama took down the 5,130-entrant, $600 buy-in, $2m Guaranteed No-Limit Hold'em DeepStack Kick Off.
The turnout was as impressive as a rock star Egyptian leader's crypt, with 14% more people showing up than last year when 4,515-entrants ensured the organisers didn't have to sweat the $2m guarantee.
James Roberts won the $378,391 first prize last year, and this year, Zaklama sent $328,695 down the wire to his bank account after agreeing on a three-way deal with a player who prefers we don't utter his name who banked the same amount, and Vladimir Alexandrov who took $216,000 in third.
It was a fantastic tournament because none of the final table (maybe player unknown) had a cracking resume of results, increasing the likelihood that the six-figure payout would have been a life-changing sum of money.
I mean, Zaklama, could be worth all the tea in China for all I know, but before this win, he had only ever cashed in seven other events with his previous best score remaining his first back in 2007 when he finished 9/181 in the $1,080 buy-in Mandalay Bay Poker Championships for $2,810.
The WPT Borgata Winter Poker Open consists of 23 events with the $3,500 buy-in $3m GTD WPT Borgata Winter Poker Open Main Event starring before the tide runs out. Last year Eric Afriat bested a 1,244-entrant field in that cherry like event to win the $651,928 first prize.
Final Table Results
1. Pascal Zaklama – $328,695*
2. Anonymous – $328,695*
3. Vladimir Alexandrov – $216,000*
4. Daniel Cai – $153,164
5. Ray Medlin – $120,919
6. Fady Khabbaz – $94,048
7. Noam Muallem – $68,252
8. Andrew Hanna – $47,562
9. Vincent Masino – $30,740
* Indicates a deal
Barry Leventhal: A Senior For All Seasons
Another story composed to perfection by the Poker Gods is that of Barry Leventhal. The man from Brooklyn, New York, booked the 11th live tournament win of his career outlasting 145-entrants to win the $12,447 first prize in the  $340 No-Limit Hold'em Seniors Event.
It turns out that since the turn of 2018, Leventhal has become quite adept at beating up the elder statesmen in the game. In April, Leventhal conquered a field of 140-entrants to win the $10,000 first prize in the $340 buy-in No-Limit Hold'em Seniors event at the Borgata Spring Poker Open, and then did the same in the Borgata Summer Poker Open, defeating 166-entrants to capture the $7,352 first prize in the same event.