Ainsworth Game Technology Ltd. (AGT) expects lower profits and revenue for the first half of the fiscal year 2019, compared to the corresponding period of the preceding fiscal year.
In a filing with the Australian Stock Exchange (ASX), the slot game developer said that "[t]he previously noted highly competitive conditions in the Australian market are continuing in FY19.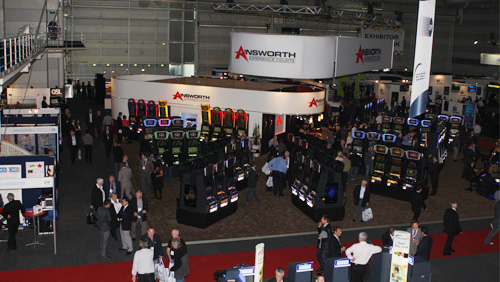 Revenues and PBT [profit before tax] for the Australian segment are expected to be materially lower for 1HFY19 compared to the PCP [prior corresponding period]. Overall industry demand has fallen by around 10%."
The company added that "timing issues around the approval of more complex new products, and the strategic decision to defer product launches into 2HFY19 to maximise market impact and total returns" also affected first-half financial results.
According to the report, from April to September of 2018, the number of units delivered in North America was expected to be higher than the same period last year. "Progress is being made in Class III markets and new jurisdictions," the report read, citing the company's proprietary Historical Horse Racing (HHR) system doing well at the newly opened Derby City Gaming facility in Kentucky, owned by Churchill Downs Incorporated (CDI), which AGT has provided with 600 slots machines for the facility.
AGT CEO Danny Gladstone said, "While AGT continues to make progress in driving growth in the key Americas markets, our performance in the highly challenging domestic markets is adversely impacting our overall results." He was optimistic, however, that their new releases and continued R&D and investments would lead to better results during the next period.
With new products expected to "gain traction with customers," AGT said its outlook for the domestic market in the second half of the fiscal year was "positive," and that its performance and financial results will reflect this.
The company has also received regulatory approval to provide its HHR system in the Nebraska and Virginia markets, also in partnership with CDI.
The report stated that AGT's earlier investments in Latin America have allowed it to maintain its market position in the region, with expectations of "improved margin performance driven by a higher quality sales mix."
The company also noted that the previous fiscal year's first half involved AUD4.9 million (US$3.6 million) in gains from one-off, nonrecurring items, as part of profit before taxes of AUD11.3 million ($8.2 million). For the current fiscal year's first half, profit was forecast at AUD8 million (US$5.8 million).
Even apart from the sale of 900 units to CDI and 800 kits to Novomatic, "AGT expects to deliver revenue growth and improved profitability in 2HFY19 compared to 1HFY19," the report read.
Profit before taxes for the second half is expected to rise 75% from the US$5.8 million expected during the first half.