Poker Central's subscription video on demand poker network PokerGO has released another 'Original', and this time Lee Davy wonders if they chose the right cast?
I don't remember the year.
I don't remember, yesterday.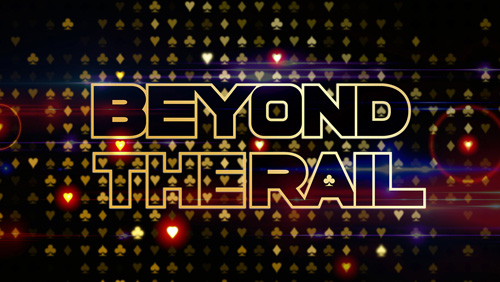 I turned up to work to cover a $1,500 No-Limit Hold'em event. Poker players wandered around the RIO like termites on a hill; fingernails chewed to the quick, hopeful glances catching the World Series of Poker (WSOP) legends draped high above their heads.
There were this other guy and me.
Our job was to describe the action in a multi-thousand player field, spanning three cavernous poker rooms to thousands of poker aficionados sitting at work smoking pot, opening cans of baked beans, and pruning lilies.
What's the word I am looking for?
Challenging?
Tough?
Ridiculous?
And then the other guy got the sack. Minutes after plonking his rucksack on the table, he was called into a room off the corridor laden with annoying salespeople and told to do one.
I was alone.
I will never know if I did a decent enough job.
The job of a poker blogger at the WSOP is a thankless task.
No feedback.
No clue.
No praise.
Nothing.
And yet without them, thousands of fans are left clueless.
PokerGO Launch Beyond The Rail
Fans of the TV screen have never had it so good with Amazon and Netflix going toe-to-toe to bring us the most fantastic TV shows, and the best delivery service, ever created.
PokerGO is poker's version of Netflix, and if they want to stay ahead of a potential poker Amazon they need to keep pumping out the original programming and to be fair, that's what they've been doing.
The latest Original to hit the lobby is a short-form series focusing on the cast of characters that help create the WSOP. It's called Beyond The Rail, and you can watch Episode #1 featuring Antonio Esfandiari on PokerGO's YouTube channel, for free, with the remaining seven episodes available via PokerGO's subscription service.
PokerGO has teamed up with Primal NY to produce the show. Primal NY is a full-service production studio specialising in brand discovery, digital strategy, content creation and distribution.
Here is an example of their work.
Here is the first episode of Beyond The Rail:
Have They Chosen The Right Cast?
Initially, when I saw the press release and saw Antonio Esfandiari's name included in the series, I thought, "Seriously, again?" It seems that whenever a PokerGO Original is in the offing either Esfandiari or Daniel Negreanu is in the cast. I always get this Quentin Tarantino/Samuel L. Jackson vibe, and as interesting as Esfandiari is he ain't no Samuel L. Jackson.
The 8:38 Esfandiari episode began slowly for me. The first half of the documentary had no structure. It felt hurried. And then it kicked into life, and I could see why they chose Esfandiari, for his role as a commentator, and then as things got interesting, it ended.
Where was the behind-the-scenes footage?
How does Esfandiari prepare for his role?
Where the shots of him after a 12-hour grind?
Posting the first episode on YouTube is a marketing strategy to get you hooked enough to pay to watch the other seven episodes, it didn't work for me. The lure still sparkles in the water, and I don't intend to grab it. There wasn't enough quality, tension or intrigue about these 8-minutes that wants me to see more.
Here is the full rundown of episodes:
· Dan Gati – Co-Executive Producer at the WSOP
· Mori Eskandani – 2018 Poker Hall of Fame inductee and Co-Executive Producer at the WSOP
· Antonio Esfandiari – Professional poker player and ESPN commentator
· Chris Moorman – Professional poker player and winningest online poker player of all time
· Drea Renee – Poker Central host and massage therapist
· All American Dave – Food truck operator and fitness trainer
· Drew Amato – Lead photographer
No dealer?
No poker blogger?
Maybe, I am a little crusty about this because I used to be one of the two. I only worked the WSOP in its entirety for that one year, before realising that the grind would kill me, and I think it would be interesting to show the world the difficulties of covering a multi-thousand person event armed with nothing but a pen, notepad and a set of keen eyeballs.
The dealer?
I mean, come on.
Without these people, there is no WSOP, and for me, I would have picked one of them out and made them a star.
Comments