They've duked it out at the poker tables, so they must have figured it was time to do the same in the boxing ring. Antonio Esfandiari and Kevin Hart are reportedly preparing to slip on the gloves and trunks in a boxing match that has some real money on the line. They have almost a year to train before the big day, but Esfandiari will probably need every bit of help he can get.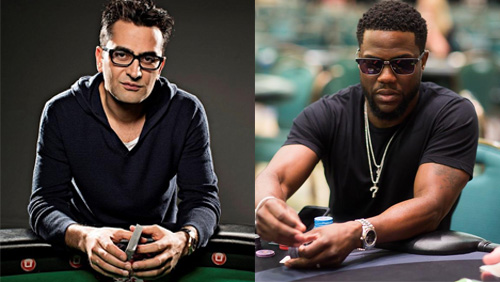 Esfandiari, who has been friends with Hart for several years, confirmed the boxing match with TMZ Sports over the weekend, saying that the two got onto the subject of boxing recently, and things snowballed from there. "Kevin Hart and I were playing the other day, we were hanging out … and somehow boxing comes up. So, we made a bet. And, in March, around March, we are going to box in a ring," the three-time WSOP bracelet winner said.
According to Esfandiari, his odds have been put at 35-to-1. His longshot chances are lessened by the fact that he spends most of his time punching the cards and not enough time punching the bags. He said that Hart is in much better shape, adding that he's an athlete or is "fast as hell."
The Las Vegas resident, who has two WPT titles on top of his WSOP wins, didn't reveal how much money was on the line for the big match. Given the fact that he is worth around $27 million—sixth on the all-time poker money list—and Hart is worth over twice that much, there's a good chance that the wager is pretty hefty.
At 39, both Esfandiari and Hart are the same age. Esfandiari has a height advantage at 5-foot-10 over Hart's 5-foot-4, but their weight is about the same. While Esfandiari's height may give him a longer reach, Hart's athleticism and agility give him an edge that should certainly cancel out Esfandiari's height.
Even if it's just for a friendly wager, the match should still prove to be interesting and fun to watch—all 30 seconds of it before Hart sends his friend down for the count.
Comments