John Cynn is the 2018 World Series of Poker Main Event champion after beating Tony Miles in the longest heads-up match in the event's history, two years after the agony of finishing 11th.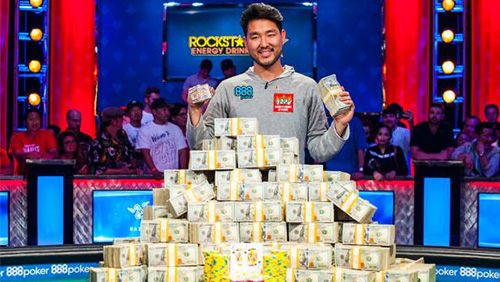 Two-years ago, John Cynn did the unthinkable by finishing 11th in the World Series of Poker (WSOP) Main Event. We barely remember the people who finish second, let along 11th, but they never forget.
Cynn won $650,000, but I doubt that mattered for the longest time. As a poker player, a berth in the final table would have been on his bucket list, a win, the stuff of dreams.  In the 2016 archives, there is a photograph of Cynn taken by Joe Giron at the moment his run came to an end at the hands of Gordon Vayo. Sitting on his butt, staring at the monitors above the final table with a dejected, resigned look on his face.
Two years later, and Joe Giron took a much better shot.
One that the Cynn family will use on the front cover of every photo album in every house in the family tree.
The image of a champion.
The 2018 WSOP Main Event attracted 7,874 entrants making it the second largest field in the game's history. The story of the final table was the incredible run of Joe Cada, who was looking to become the fourth player to win two WSOP Main Event titles (Doyle Brunson, Johnny Chan and Stu Ungar).
Cada apart this wasn't a final table littered with perfect poker resumes, but it turned out to be one of the longest on record.
Let's find out what happened:
Day 8: Six Remain; Dyer With a Huge Chip Lead; Cada Still in Contention
Starting Chip Counts
1. Nicolas Manion – 112,775,000
2. Michael Dyer – 109,175,000
3. Tony Miles – 42,750,000
4. John Cynn – 37,075,000
5. Alex Lynskey – 25,925,000
6. Joe Cada – 23,675,000
7. Aram Zobian – 18,875,000
8. Artem Metalidi – 15,475,000
9. Antoine Labat – 8,050,000
Level 36: Blinds 300,000/600,000/100,000 
Antoine Labat Eliminated in 9th Place ($1,000,000) 
Antoine Labat, who lost most of his chips in the infamous KK v KK v AA final hand of Day 7, was once again holding the cowboys when disaster struck. Labat got it in good against Artem Metalidi's QQ, only for a third queen to land on the flop, sending Labat home with a million bucks.
Level 37: Blinds 400,000/800,000/100,000 
Artem Metalidi Eliminated in 8th Place ($1,250,000), Alex Lynskey Eliminated in 7th Place ($1,500,000) 
Artem Zobian doubled through the runaway chip leader, Michael Dyer, A8s>66 when he found an eight on the river.
Then we lost Artem Metalidi, who went for it holding pocket fives, and Zobian called and nailed him holding KQd. Once again we had drama personified as the Ukranian flopped a set, the American flopped a flush draw and connected on the river to send Metalidi packing.
Alex Lynskey will look back on his final table experience and think wtf? The Australian didn't win a single hand before exiting in seventh place after finding pocket sixes against the KQs of John Cynn. Once again the river wrote the final narrative with Cynn connecting with a gutshot straight draw to reduce the final table to six.
End of Day 9 Chip Counts
1. Michael Dyer – 156,500,000
2. Nicolas Manion – 72,250,000
3. John Cynn – 61,550,000
4. Tony Miles – 57,500,000
5. Joe Cada – 29,275,000
6. Aram Zobian – 16,700,000
Day 9: Three Remain With Miles Firmly in Charge 
Level 38: 500,000/1,000,000/150,000 
Aram Zobian Eliminated in 6th Place ($1,800,000)
The first casualty, was, predictably, the short-stacked Aram Zobian.
The action folded to the Day 6 Chip Leader who moved all-in from the small blind, and Michael Dyer made the call from the large. Zobian turned over 86s, but Dyer woke up with a big blind monster in A8o, and it held.
Joe Cada Eliminated in 5th Place ($2,150,000) 
Then we lost the biggest story arc of the event.
The youngest man to ever win the Main Event, fell five places away from joining Doyle Brunson, Stu Ungar and Johnny Chan as a repeat Main Event Champion when his pocket tens lost the all-important race against the AK of Tony Miles when Miles flopped a King.
Four remained.
Here were the chip counts.
Michael Dyer – 167,350,000
Tony Miles – 104,450,000
Nicolas Manion – 83,750,000
John Cynn 38,225,000
For the longest time it looked like Dyer was going to run away with this thing, but then Miles took the chip lead after flopping a set of treys, before gaining three streets of value from the man who looked a good bet to do a Joe McKeehen.
Then John Cynn doubled up courtesy of a Nicolas Manion three-barrel bluff, relegating the man who earned his seat via a freeroll to the position of the shortest stack in the competition.
Manion then doubled through Tony Miles when his pocket sevens out sprinted the AK of the chip leader.
Level 40: 800,000/1,600,000/200,000 
By the time we reached Level 40, there was an Avengers Infinity Wars feel about it. Do you remember when Dr Strange told Iron Man that there was only one possible way they could save half of the universe?
Tony Miles – 231,800,000
John Cynn – 80,400,000
Michael Dyer – 47,000,000
Nicolas Manion – 34,600,000
Play then came to an end after John Cynn became Miles' primary contender when he eliminated Manion KK>AT.
Here were the chip counts.
Tony Miles – 238,900,000
John Cynn – 128,700,000
Michael Dyer – 26,200,000
Day 10: John Cynn Wins the Main Event 
Level 40: 800,000/1,600,000/200,000
John Cynn started like he had been fired out of a rocket, winning hand after hand before finally taking the chip lead from Miles, taking chunk after chunk from the overnight chip leader's stack.
And then we lost Dyer.
Michael Dyer Eliminated in 3rdPlace ($3,750,000)
The one-time runaway chip leader got it in with ATo, only to be called by Miles and AJo. The jack on the turn sealed Dyer's fate, and we were heads-up for $8.8m.
Heads-Up 
Neck and neck.
Tony Miles – 198,400,000
John Cynn – 195,400,000
Miles and Cynn would go hand for hand for the next ten hours, exchanging the chip lead on eleven different occasions.
There were no all-ins and calls.
It was a pure grind.
Eventually, Cynn gained some momentum and took a 284,800,000 v 109,000,000 chip lead. It was the furthest the pair had been apart since heads-up began. Then the gulf widened when Cynn won six hands on the bounced to stretch it to 309,800,000 v 84,000,000.
But Miles proved he was made of stern stuff when he battled back to take the chip lead after going the whole hog with trip sixes only for Cynn to call with top pair.
Miles didn't hold the chip lead for long.
Cynn soon retook command.
Then Miles.
Then Cynn.
Then this:
John Cynn put 9 million across the line, Tony Miles raised to 34 million, and Cynn called. The flop was KhKd5h, Miles bet 32m, and Cynn called. The turn was 8d, and Miles moved all-in for 114 million, and Cynn made the call.
Cynn turned over KJ for trip kings, and Miles showed Q8 for two pairs, and just like that it was over.
Two years after finishing 11th, John Cynn was the 2018 WSOP Main Event Champion and the proud owner of $8.8m. 
Final Table Results
1. John Cynn – $8,800,000
2. Tony Miles – $5,000,000
3. Michael Dyer – $3,750,000
4. Nicolas Manion – $2,825,000
5. Joe Cada – $2,150,000
6. Aram Zobian – $1,800,000
7. Alex Lynskey – $1,500,000
8. Artem Metalidi – $1,250,000
9. Antoine Labat – $1,000,000
Comments