Another round-up from the World Cup in Russia that sees both France and Denmark qualify for the Round of 16 where the French will face Argentina in a blockbuster of a match.
If you thought it was dull to watch, spare a thought for the people, who have to write about it.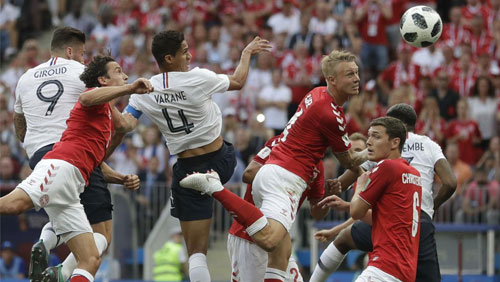 The bookies believe both Belgium and England have a better chance of winning the World Cup than France, after Argentina's late show against Nigeria means they will face the French in the Round of 16.
It took 37 games, but we finally had a goalless draw.
The fans in the Luzhiniki Stadium celebrated by hailing the French and the Danes with boos.
If there was ever a game to miss, this was it.
Both sides knew pre-match that they had qualified for the Round of 16 irrespective of what happened in the match between Peru and Australia. The only bone of contention was who would finish on top of the group to face Argentina, and the Danes made sure it wasn't them, by parking the biggest reddest bus they could find.
Despite the French having 70% possession and more shots, it was the Danes who had the best chance; Christian Eriksen nearly getting on the end of a pinpoint Andreas Cornelius cross on the counter-attack, but they didn't register a single shot on target until 54 minutes, and once again it was that man Eriksen producing a save from the French keeper from a free-kick.
Didier Deschamps made six changes, including leaving Paul Pogba on the bench. The only highlight for the French was a 20-minute appearance for Liverpool prospect Nabil Fekir.
There was a lack of sparkle from the front pairing of Antoine Griezmann and Olivier Giroud. While the Atletico Madrid forward was on the pitch he never once passed to the Chelsea striker.
Deschamps will be hoping for better chemistry when they face Argentina on Saturday after Marcos Rojo saved the South Americans hide with a late winner against Nigeria last night.
Denmark are now unbeaten in 18 games, and they make the knockout stages for the first time since 2002. The Danes will face Croatia on Sunday. Croatia topped their group with ease, winning all three matches.
In the group's other game Peru beat Australia 2-0 thanks to goals from André Carillo and Paolo Guerrero.
Group C Table
1. France – 7
2. Denmark – 5
3. Peru – 3
4. Australia – 1
World Cup Winners
Spain 9/2
Brazil 5/1
Germany 7/1
Belgium 7/1
England 9/1
France 10/1
France and Denmark Odds
France v Argentina
France 11/8
Argentina 5/2
Draw 21/10
Croatia v Denmark
Croatia 17/20
Denmark 21/5
Draw 12/5
To Win The World Cup
France – 10/1
Denmark – 80/1
Comments