Another review from the World Series of Poker, this time focusing on Jeremy Wien's against the odds performance in the $5,000 No-Limit Hold'em event where he bested a final table that included David Laka, David Peters, Shawn Buchanan, and Jake Schindler.
Akimbo.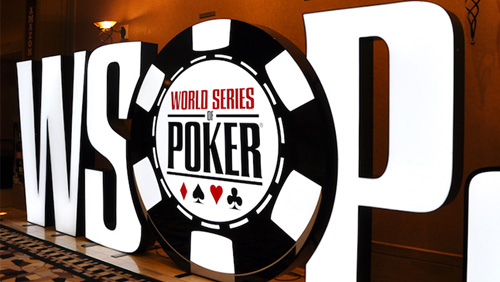 It's a position that one takes when they stand with hands on hips, elbows turned outward. It's also the name of Seth Godin's podcast. It's the best podcast this side of Robert Hanson's Great Filter.
In one of his earliest episodes, Godin talks about how systematised the world is, and how we are expected to 'fit in' to the shapes carved out for us. We call people who refuse to conform: special snowflakes.
People like Jeremy Wien.
After Wien overcame a final table that included David Peters, Shawn Buchanan, Jake Schindler and David Laka to win Event #20: $5,000 No-Limit Hold'em, PokerNews noted his heads-up performance as unorthodox. 
The dictionary definition of unorthodox is thus:
Unorthodox – Contrary to what is usual, traditional, or accepted; not orthodox. 
The poker dictionary definition of unorthodox is thus:
Fish.
It's a meta-message.
"Meta messages add another layer of meaning to a sentence, often a disapproving one," writes Matthew McKay in his groundbreaking book Messages. 
Whenever a poker calls someone unorthodox, it almost always means that the player in question played in a way that those in the know would describe as 'bad' or 'incorrect.'
But let's look at the logic here.
Before this final table, Wien had not accomplished much in the live tournament field, making a few semi-deep runs in the Main Event, and making the final table of the World Series of Poker Circuit (WSOPC) event.
And.
Then.
He finds himself sitting next to four top brass.
What would you do?
I would do the complete opposite of them.
Wien defeated 518 players to win one of the toughest No-Limit Hold'em events on the calendar, and with it, half a million bucks, all the while playing 'nitty' as he called himself.
Wien entered heads-up, against David Laka facing a 4:1 chip disadvantage, and a skill deficit. But Wien got out his shovel and dug in. Picking out a strategy to fold a large percentage of his hands (including the button), instead preferring to wait for some of the big boys to lie under his fingertips, Wien fought back and eventually won.
It was an astounding achievement.
You could run this scenario a million times, and Laka would undoubtedly win the vast majority of them.
Not today.
Not when the bracelet was on the line.
Laka is a self-confessed heads-up specialist. At only 21-years of age, he has $1.6m playing live including winning the $10,300 High Roller at the 2017 partypoker MILLIONS in Sochi for $250,000 before finishing runner-up in the final of the $5,300 Main Event in the same competition for $600,000. He also finished sixth in the PokerStars Asian Championship of Poker (ACOP) Main Event in Macau last year for $164,773.
A special snowflake if ever I saw one.
Wait, didn't I say Wien was the special snowflake?
Here's the rub.
According to Godin, we're all special snowflakes, but rarely do we have the balls or the insight to allow our beauty to shine. We stick instead of twist. We shimmy instead of shake. We conform instead of taking the line of unconformity. We do what the rule makers say because to do otherwise opens us up to criticism, ridicule and shame.
Poker is like life, and life is like poker. 
Final Table Results
1. Jeremy Wien – $537,710
2. David Laka – $332,328
3. Eric Blair – $228,307
4. Jake Schindler – $159,575
5. John Amato – $113,510
6. Shawn Buchanan – $82,199
7. David Peters – $60,618
8. Richard Tuhrim – $45,538
78 people got paid including special snowflakes like the Global Poker Index (GPI) #1 Stephen Chidwick (19th), the most in-form player at the WSOP Justin Bonomo (29th) and the #2 All-Time Live Tournament money earner Erik Seidel (64th).