Another review from the World Series of Poker, this time focusing on a third bracelet win for Bulgaria, a second bracelet win for the winner of the Dealer's Choice, and a car wash attendant turned champion in the baby PLO.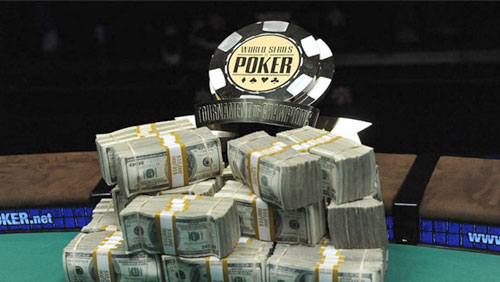 "You expect bracelet winners and big names in poker. I am not afraid of that," Dimov told PokerNews after winning Event #17: $1,500 No-Limit Hold'em 6-Handed for $378,743.
The triumph was Dimov's fifth of his career, and the emotional razzmatazz must rank as highly as his Season 11 European Poker Tour (EPT) Main Event win in Deauville for €543,700.
So who were those bracelet winners and big names?
Nick Schulman.
Ryan D'Angelo.
Joey Weissman.
Yue Du.
Four former bracelet winners on a six-handed final table. Unreal. Dimov needed help, and he got it in the shape of a boisterous Bulgarian rail that rivalled any that the World Series of Poker (WSOP) had witnessed in recent times.
Four-handed, Dimov treated everyone in the same way American Psycho did while listening to some classic 80s pop. Hatchets. Axes. Spears. One by one they hit the rail hard until only Dimov remained.
In winning, Dimov became the third Bulgarian to win a WSOP bracelet after Nick Jivkov took down a $1,500 Pot-Limit Hold'em event in 2012, and Simeon Naydenov won a $1,500 No-Limit Hold'em Shootout event in 2013.
And only in his third series, no less.
Dimov has now earned $1.5m in live earnings, good for a third place in the Bulgarian rankings behind Dimitar Danchev ($4.3m) and Simeon Naydenov ($2.6m). 
Final Table Results
1. Ognyan Dimov – $378,743
2. Antonio Barbato – $233,992
3. Nick Schulman – $163,785
4. Ryan D'Angelo – $116,118
5. Joey Weissman – $83,396
6. Yue Du – $60,686
250 people took a chunk from this one including Luke Brereton (7th), Bart Lybaert (8th) and Jamie Rosen (10th).
Adam Friedman Wins Event #18: $10,000 Dealer's Choice 6-Handed 
An unscheduled fourth day was needed to find a winner in Event #18: $10,000 Dealer's Choice 6-Handed.
The final table included such luminaries as Chris Klodnicki, David "ODB" Baker, and Marco Johnson, but it was Adam Friedman who came from behind to beat the British mixed game specialist, Stuart Rutter, heads-up, to win his second bracelet (the first came after winning a $5,000 Seven Card Stud event back in 2012 for $269,037).
Friedman has now earned $2.4m in live earnings, and this was his tenth career victory, and his most substantial cash to date. 
Final Table Results
1. Adam Friedman – $293,275
2. Stuart Rutter – $181,258
3. Alexey Makarov – $127,487
4. Chris Klodnicki – $90,713
5. David "ODB" Baker – $65,308
6. Marco Johnson – $47,579
17 players visited the pay desk twice including Anthony Zinno (8th), Jesse Martin (10th) and Dylan Linde (11th).
Craig Varnell Wins Event #19: $565 Pot-Limit Omaha 
Four years ago, Craig Varnell was washing cars for a living, and now he is a WSOP bracelet winner.
2,419 entrants is a frightening proposition for some, but it was chicken feed to a man who once beat 5,113 entrants to win the WPT500 at the ARIA for $185,500.
It seems the large field $565 price points is a speciality for Varnell.
Varnell came into this event on a downer after firing eight bullets into the COLOSSUS with only the inside of an empty glass to show for his efforts.
He feels a tad better this morning.
Varnell told PokerNews that the critical moment for him was ten-handed. With everyone desperate to make the final table, Varnell turned into a Dyson, hoovering up chips with impunity.
The final table included the former WSOP Main Event Champ, Jonathan Duhamel, and the World Poker Tour (WPT) Champions Club member, Maxime Heroux.
Varnell now has $1.4m in live scores, slightly more than he would have earned had he continued shooting jets of water into wheel trims.  
Final Table Results
1. Craig Varnell – $181,790
2. Seth Zimmerman – $112,347
3. Omar Mehmood – $81,852
4. Maxime Heroux – $60,190
5. Chris Trang – $44,677
6. Jonathan Duhamel – $33,477
7. Shaome Yang – $25,325
8. Jason Lipiner – $19,344
9. Ilian Li – $14,920