Another review from the World Series of Poker, this time focusing on Paul Volpe's third bracelet win in Event #9: $10,000 Omaha Hi-Lo 8 or Better. 
If you're going to have an early punt on the face to replace Chris "Was That Really an Apology" Ferguson as the World Series of Poker (WSOP) Player of the Year (POY) look no further than Paul Volpe.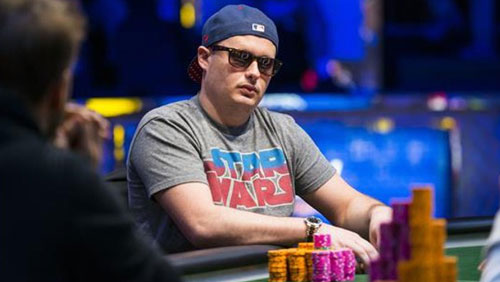 Volpe has never spat into my dictaphone.
I don't know the man.
But he doesn't strike me as the titles type. I see a predator. The kind of guy who goes toe-to-toe with a Polar Bear emerging with its pelt turned into a pair of slippers.
The winner of the WSOP POY needs to be someone who can beat all of the games, and Volpe can do that. Plus, he has begun the series like a beetroot hitting the blades of a Nutribullet – a splash of colour that you're not going to forget.
Volpe finished third in the $10,000 No-Limit Hold'em Super Turbo Bounty Event for $169,195. He then cashed in the $100,000 No-Limit Hold'em High Roller in 15th for $155,378.
And then he went and did this.
Paul Volpe Wins Event #9: $10,000 Omaha Hi-Lo 8 or Better. 
Event #9: $10,000 Omaha Hi-Lo 8 or Better attracted 169 entrants, a 9% increase on last year's event won by Abe Mosseri. $1,588,600 would go into the prize pool, and by the end of Day 1, Chris Bjorin marched in front of 75 players each holding a plastic bag containing chips. Volpe was somewhere in the middle.
By the end of Day 2, Eli Elezra emerged as a serious contender for his fourth bracelet when he topped an impressive list of 22 players with Volpe once again in the middle of the pack. Elezra still had the lead coming into the final table. Volpe began in third. Adam Coats was the piggy in that middle.
It was an incredible final table with 11 WSOP bracelet worth of experience in action, but it was those three: Elezra, Coats and Volpe who would stick around until the bitter end.
Elezra took care of Coats when he rivered Broadway to beat his competitors two pairs of aces and tens, but Volpe still began heads-up with a 4,965,000 v 3,485,000 chip lead.
And then this happened.
"He ran like God," Elezra told a PokerNews reporter after a short and shrift heads-up encounter where the Israeli didn't win a pot of note.
It was hit after hit.
Punch.
Drunk.
"A lot of people with cards like me would have won this tournament," said a modest Volpe after flopping a straight to beat the WSOP legend.
The win means Volpe joins Elezra on three WSOP bracelets. His first came in 2014 when he beat 87 entrants to win the $10,000 No-Limit 2-7 Draw Lowball. The second came in 2016 when he won the $1,500 Eight-Game Mix. It seems Volpe runs like God every two years.
The $417,921 prize is Volpe's third most significant of his career. The $651,170 he received for finishing runner-up to Paul Klann in the 2013 World Poker Tour LA Poker Classic remains his best. Victory over Elzezra was Volpe's ninth career title, and he has amassed more than $7.2m in lifetime earnings.
Final Table Results
1. Paul Volpe – $417,921
2. Eli Elezra – $258,297
3. Adam Coats – $181,374
4. Kyle Miaso – $129,648
5. Viacheslav Zhukov – $94,730
6. Dustin Dirksen – $69,971
7. Robert Mizrachi – $52,866
8. Daniel Zack – $40,715
9. Per Hildebrand – $31,977
26 people got paid and amongst them were:
Jesse Martin (10th), Mike Matusow (11th), Dylan Linde (15th), Mike Gorodinsky (16th), Felipe Ramos (17th), Chris Bjorin (18th), Anthony Zinno (24th) and Dan Shak (26th).
Volpe now trails Elio Fox at the top of the 2018 WSOP Player of the year standings:
Here are the top five.
1. Elio Fox – 1,743.65
2. Paul Volpe – 1,622.00
3. Joe Cada – 1,527.57
4. Nick Petrangelo – 1,269.75
5. Julien Martini – 1,026.20