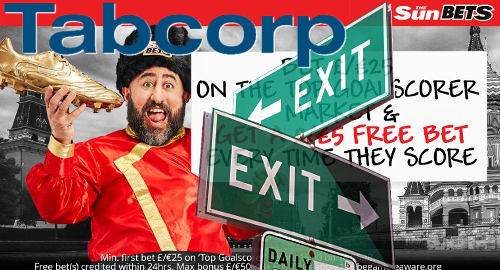 Australian sports betting and lottery operator Tabcorp Holdings wants out of its UK-facing Sun Bets online gambling joint venture.
On Thursday, Tabcorp confirmed that it is seeking an early exit from its online gambling partnership with Rupert Murdoch's News UK media operation. Sun Bets launched in 2016 but never caught on with the betting public, and Tabcorp placed the money-losing operation under review last October.
Tabcorp's deal with News UK allows it to exit the Sun Bets venture on December 31, 2019, but the Guardian reported that Tabcorp had informed its 60 UK-based staff that it was seeking to exit the partnership a year ahead of schedule.
Tabcorp confirmed that it was "in discussions" with News UK about the premature evacuation, which Guardian sources claimed could cost Tabcorp up to £30m in penalties. That may appear the lesser of two evils, as Sun Bets booked a net loss of A$22.5m (US$17.2m) in the first half of Tabcorp's fiscal 2018 on revenue of just A$3.7m.
Tabcorp's dissatisfaction with Sun Bets was on full display in its H1 report, which announced that the venture was responsible for one-off costs of A$49m due to an "onerous contract provision" with News UK. Tabcorp had tinkered with the Sun Bets product and marketing but ultimately concluded that "these initiatives have not gained traction."
eGaming Review reported that News UK was already having talks with alternate sportsbook suppliers, including Kambi, SBTech and FSB. News UK remains bullish on the opportunities for its betting brand and sources pinned Sun Bets' failure on Tabcorp's unfamiliarity with the UK betting market, in-play betting and online casino products in general.
It's perhaps telling that Sun Bets' biggest claim to fame to date was the £84k penalty assessed by the UK Gambling Commission for the site's role in the 'PieGate' incident, which saw a Sutton United FC goalkeeper eat a meat pie on the sidelines of a match with the knowledge that it would fulfill a Sun Bets novelty wager.