A lot can change in six weeks. Back on March 31, just a couple of days into the 2018 MLB season, the Los Angeles Dodgers were +300 favorites to repeat as NL pennant winners.
Odds courtesy of OddsShark.com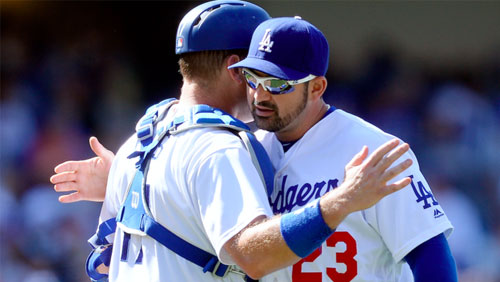 That made sense, considering the Dodgers led the majors with 104 wins last season, were just one victory from winning the franchise's first World Series since 1988 and brought essentially everyone of consequence back.
However, the season has not gone as planned for manager Dave Roberts' team as it has been hammered by injuries to the likes of 2016 NL Rookie of the Year Corey Seager (out for season), heart-and-soul All-Star third baseman Justin Turner (yet to play in 2018) and three-time Cy Young winner Clayton Kershaw (return date TBA).
The Dodgers are the biggest disappointments in baseball thus far well under .500 and in fourth in the NL West, a division they have won the past five years. Los Angeles is now +700 to repeat as the pennant winner.
The new National League betting favorite is the West-leading Arizona Diamondbacks at +400. They have the best record in the Senior Circuit and the largest division lead in baseball. Arizona was a good team in 2017, too, winning 93 games and earning a playoff spot for the first time since 2011.
Clearly, though, oddsmakers thought that was a bit of a fluke and penalized Arizona for losing slugger J.D. Martinez in free agency as the Snakes were +1400 on the pennant odds on March 31. Despite some injuries to their rotation, the Diamondbacks are among the MLB leaders in ERA and quality starts.
The Chicago Cubs were +350 and are now +550 to win their second pennant in three years. The Cubbies have been inconsistent in the early going with iffy returns from their two big free-agent signings in starting pitchers Yu Darvish and Tyler Chatwood.
A few key Cubs such as perennial All-Star Anthony Rizzo (starting to heat up), Willson Contreras and Addison Russell are struggling at the plate. Javier Baez, though, is an early NL MVP candidate.
The Washington Nationals (+750), New York Mets (+850) and Atlanta Braves (+900) are the only other teams below +1000 on the pennant odds. The Nationals started slowly but have begun their ascent. The Mets started quickly but have begun their descent. The Braves are full of young talent and were a sleeper wild-card contender of many experts this spring.
The only team to fire its manager so far this season is the Cincinnati Reds, and they have easily the worst record in the NL and the longest pennant odds at +50000.
Comments