Alex Dreyfus finally releases his hand, and it's a monster. The French entrepreneur has created chiliZ, a fan-controlled esports platform that will revolutionise the way that fans engage with their favourite esports teams/players.

"Wayne Rooney is shit."
My mother's words, not mine.
"David Beckham is a ponce."
Another classic from my mum.
My mother is the archetypal armchair fan, supporting Manchester United from her living room for decades.
"Jose doesn't know what he's doing!"
Eventually, my old man has enough – "Do you think you could do any better?"
"Yes!"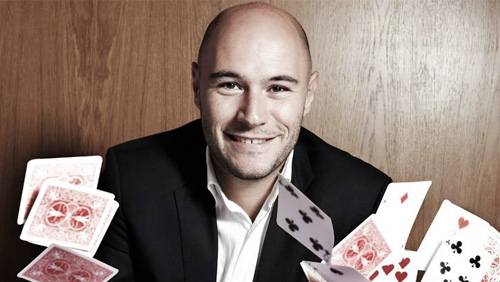 And now with chiliZ, my mum might get that chance.
I have followed Alex Dreyfus's Twitter stream with interest over the past few years. At a time, it was my go-to place for poker news (alongside Kevin Mathers). The man who created Chili Poker long before I had joined this wacky world, acquired the Global Poker Index (GPI), the Hendon Mob, and quickly set about sportifying poker with one the boldest moves I have seen in my time – the Global Poker League (GPL).
And then something changed.
Esports grabbed his attention.
It had to happen, Dreyfus is an entrepreneur first and foremost and a lover of poker second. When the World Poker Tour (WPT) pays people $55 to be an artificial member of the final table crowd, and thousands of people gladly pay to watch their favourite esports stars competing, you don't need to be Einstein to figure out that eventually poker will be lying beneath a rose bush with a thorny root jutting out through its heart.
Dreyfus pivoted.
With a click of a finger, the Global Poker League became the Global Player League, and 99% of his Twitter activity was esports related.
And I remember the day, although I don't remember the exact words, when Dreyfus tweeted that he knew nothing about cryptocurrency. I also remember the moment he invested for the first time. Both events happened in a blink of an eye.
Another pivot.
Now the Twitter feed was all about blockchain technology and cryptocurrency.
I once took a safari and seeing vultures circling the wood; my guide got out to see if he could find the kill. He never told me what he found. I imagine Alex Dreyfus standing there dripping in blood.
This man doesn't waste time.
He sees opportunity, and he goes for the jugular.
And now we know what he's been up to.
What Alex Dreyfus has been up to
During the GPL Season 1, Dreyfus and I engaged in a conversation via Facebook where I expressed an opinion that the GPL would become stronger if the fans were able to control the teams.
Maybe, I planted a seed inside his Jean-Luc Picard type head?
While we have been wondering why Dreyfus was racking up so many air miles, we now know that he has gone back to where it all began, by resurrecting the Chili brand name, albeit with an entirely new gloss.
Dreyfus and his team have raised $27m through early private placement for a chiliZ esports/blockchain venture. It's early doors, and I will learn more when I interview the man in a few days time, but the beating heart of chiliZ is blockchain technology that allows esports fans to have a voice in the inner workings of their favourite teams.
The news emerged in a Medium blog post this morning, where Dreyfus said he drew inspiration from the role of the 'socios' in Spanish football where 90,000+ Real Madrid fans and 170,000 Barcelona fans have a democratic say in how the club is run (well he couldn't say Lee Davy inspired him could he).
We have all grown to understand the critical role that crowdfunding plays in startups.
Welcome to the world of crowd management.
Dreyfus and his team at chiliZ want to spread the wealth by allowing the not so famous esports teams/players to attract financial aid from fans in return for allowing them to take control of certain decisions in true Football Manager PC game style.
Who will play?
Who will be in reserve?
What skins will they wear/use?
It's brilliant.
It's the future.
And it's all managed through blockchain tech, and utility tokens called chiliZ.
How Does it Work?
ChiliZ will use a utility token known as a chiliZ token (CHZ). You can purchase CHZ (I am not sure what options are available, but fiat currency will almost certainly be one).
You can use the CHZ tokens in a variety of ways on the chiliZ platform. Dreyfus still has plans to roll out a unique Global Player League (like he did successfully with poker), and the token system will be a part of that concept. There will also be P2P game battles, leaderboard leagues, and I am sure in the future, a way to gamble on the outcome of esports matches.
However, the revolutionary use of CHZ tokens is in the way they are traded in the chiliZ marketplace for voice tokens. The more voice tokens you buy in a particular team/player, the more sway you have in the decision making process of that team/player.
Voice tokens can also be traded back to CHZ, or traded in the marketplace so you can switch allegiances should that crazy idea even enter your head (once a red always a red).
The Rollout
CHZ tokens and a platform of sorts will be in place for early adopters in Q4, 2018. In this same timeframe, the team will continue to expand and develop the concept for the full fan controlled league – the GPL.
Q1, 2019 and chiliZ open for morons like me to have a play. Experimentation with chiliZ permissioned blockchain for qualified small-scale esports organisations to conduct controlled token sales also advances.
By Q3, 2020, Dreyfus and the team want to be using their voice crowd management and trading system in conventional sports. If you think this is madness, then consider that in the UK, Essex Alliance Football League team United London FC is managed by the fans via an Internet voting system.
The Money, Honey
The timeframe on the whole ICO thingamajig is not concrete, but here are the plans for spending the stuff.
($CHZ) 8,888,888,888 to be minted
($CHZ) 3,066,666,666 for private pre-sale and public sale hardcap
($CHZ) 1,111,111,110 for team and seed investors
($CHZ) 266,666,666  for the advisory board
($CHZ) 1,777,777,780 for userbase reserve
($CHZ) 1,333,333,333 for marketing operations
($CHZ) 1,333,333,333 for strategic acquisitions
On an architectural level, the chiliZ platform combines its core components across the public Ethereum and the chiliZ permissioned blockchains. The platform acts as a bridge between these two chains.
The Faces
Dreyfus hasn't only been busy created funds. He has put together a pretty formidable team of experts. Esports stars such as Anomaly (freaky looking dude wearing tights on his head), and Dr DisRespect (a man cut out of the 1970s Dirk Diggler template) and partypoker's newest recruit ElkY join a host of other expert esports voices that I have never heard of but sure are mustard.
If I showed my mother the rogues gallery in the whitepaper, I am not sure she would approve.
I will catch up with Dreyfus in the next few days.
In the meantime, here is the whitepaper explaining everything I have just said much better than I have just said it.