Lee Davy takes the theory of working anywhere in the world to the extreme by knocking out a piece about missing PokerStars Big Race while sitting in one of the world's smallest cars.
What the fuck is wrong with people, these days?
I swear, in 20-years time, we will walk over the carcasses of heart failure victims and blame Starbucks. I've visited two stores in the space of ten minutes, and they are wall to wall packed. I swear people are sitting on the bog drinking the sugary shit.
So I have to settle for my friend's car. It's one of those Fiat 500's. I'm not big, but this is a small arse car. I have my laptop jammed between the steering wheel and my belly button, and I'm churning one out.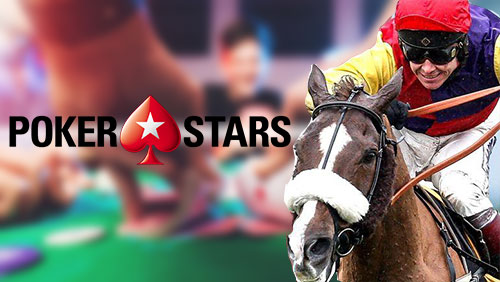 It's 4.47 pm.
In 13-minutes I play in the Big Race at PokerStars. The concept is one of the most innovative in the new 'one-stop-shop' gambling arenas that swallow online poker rooms like a Sarlacc.
Poker players are the target market. The winner picks up a $3k package to the PokerStars Festival Marbella. There, you could win a Platinum Pass for the $25k Player's No-Limit Hold'em Championship worth $30k. If you miss out on that prize but finish in the top places, PokerStars rewards you with BetStars bets. The innovative twist comes with the top ITM finishers randomly allocated a gee-gee in the Cheltenham Gold Cup with the first three past the post earning you BetStars prizes and a $3k Marbella package.
Brilliant.
There are only two problems.
I don't gamble outside of poker, so if I do win a BetStars package (like I did last year), then it's about as useful as a sparrow in a falconry competition.
And I'm stuck in this car, waiting for my friend to finish eating his vegan curry, then picking up his cat, before he can give me a lift home because the snow on the rails means there are no trains.
But in truth, I made my mind up not to play earlier.
As Dave Gahan used to sing while shagging the mic: It's a question of time. 
It's a Question of Time 
The opening salvo fired out of Gahan's mouth when reliving that 1986 hit goes a little something like this:
I've got to get to you first.
Before they do.
It's just a question of time.
Before they lay their hands on you.
And make you just like the rest.
I've got to get to you first.
It's just a question of time. 
The PokerStars employees I've shared helium balloons with love poker. However, PokerStars is merely a planet in a Solar System called The Stars Group. This gambling monolith isn't a Toms footwear. Yes, they have a philanthropic arm, but the primary goal is to make as much money as possible.
Carving the pie would PokerStars prefer to have poker players or sports bettors and casino players. The official approach would be – all three, please. However, if the goal is to make the most money, then it makes sense to choose the punter who isn't stuck in a Fiat 500 on a Sunday night trying to finish his work.
PokerStars can't get to these people first. William Hill, SkyBet, Ladbrokes – they have already laid their hands on these gems. They have to zig when these companies zag. They have to turn their sizeable online poker player base into mad raving sports betting and casino fans, and this is why the Big Race is such a great event.
The reason I'm not playing is down to time.
The event began at 17:00 (GMT). I don't know how many runners the game will attract, but let's say it's a decent number. Now let's imagine a typical punter like me loads up a single table. That would be like turning up at an orgy and ordering a hand job. That's not going to cut it. I am going to have to play more. I will load up numerous different tournaments. I've just increased the likelihood that I'm playing when the owls start hoot-hooting.
I'm up at 6:30 am each morning, and I return home from my Ernest Hemingway jaunt around Cardiff's best coffee shops at 6 pm. I play with my daughter for two hours, take her to bed, and then spend a few hours with my wife before hitting the sack. I have a 17-year-old that often gets lost in this hectic schedule.
Then the weekend arrives.
What should I do with my time?
Should I spend it with my family, or sitting in front of my computer playing online poker for 8-14 hours?
I can't justifiably play tournament poker.
It's a non-starter.
But I could (I don't) spend shorter periods of time having a bet on the Cheltenham Gold Cup or put a tenner on my weekly accumulator. And this is why the Spin & Go and other poker games designed to last the time it takes your finger to break through the environmentally friendly toilet paper make sense.
And this is why I'm likely the most unprofitable online poker customer that PokerStars has, but with some savvy marketing like the Big Race, they have a better chance of luring me into BetStars or the PokerStars Casino.
Online tournament poker?
There was a time when I loved the game. Only it created the deaf effect. I never heard the ex-wife singing Dave Gahan's prophetic words.
It's a question of time – before you end up in the divorce courts. 
I won't be making the same mistake twice.
Sorry, Big Race, not tonight. Once I've finished this, I have to make a snowman with my little girl.