As a District Judge throws out allegations made by Leon Tsoukernik that Matthew Kirk and the ARIA Casino & Resort conspired to win millions of dollars from the Czech Casino owner, Lee Davy points an angry finger at poker for allowing these cases to rumble on.
I remember being cheated in a home game by a man in his 60s known as The Bookie. I didn't react well. If he were a bee, I would have pulled out his stinger there and then. But that's not the point.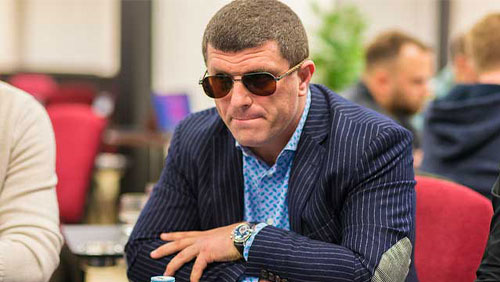 As I was throwing chairs, and moving around the room like a moth with a singed wing, the game went on. I remember asking my mates to take my side. To say something, anything.
Nothing.
A few shoulders shrugged.
Nothing.
Without The Bookie, there was no game. The game had a more significant shadow than any man or woman who sat down. And at that moment, I realised that we were either living life misaligned to our actual values, or the game matched those values.
I left.
In the past few days, I have shared my opinion a few times. Beneath the words, lies a simmer. When people speak the unspeakable truth, there is always a caveat tethered like a clam-stained anchor.
When talking about his decision to leave poker for crypto, Doug Polk spoke about poker jading people. I'm sure he wasn't talking about the end of feelgood or the lack of energy after playing so many hours. He was referring to the explosion of crimes we see perpetrated on a regular basis and yet pass them off like blades of grass flying out the back of a mower.
Crimes like the one perpetrated by Leon Tsoukernik.
You Bought Your Own Drinks, Son 
I don't know why I bother.
I know it will land on death ears.
But isn't it something when someone steals $2m from another person, and nobody cares. According to the Effective Altruism movement, which has an artery running through poker's body, you can save a life for $3,337.
Leon Tsoukernik, the owner of the King's Casino in Rozvadov, played the Australian High Stakes poker player, Matt Kirk, heads-up at ARIA, and lost $3m. Later, after cashing in the Super High Roller Bowl, Tsoukernik returned a million but refused to pay the other two.
His defence?
According to legal papers (Kirk sued Tsoukernik, who then counter-sued Kirk and ARIA), the casino owner's only defence is Kirk and ARIA got together behind his back and agreed to ply him with alcohol, so he became so drunk he would lose millions of dollars to the pair, which I assume, Tsoukernik believes were sharing a bankroll.
I read to my 17-month-old daughter, nightly, and I have never come across a better fairytale than that.
The Judge 
According to David Ferrara of the Las Vegas Review-Journal, the case saw some court time on Tuesday. District Judge Linda Bell threw out Tsoukernik's claims and ordered him to pay Kirk's legal fees unless they could come up with another reason why she should change her mind.
By this time, Bell had already dismissed 8 of the ten claims Kirk brought against Tsoukernik. The most significant stumbling block being the fact that the lost bets were unenforceable gambling debts (something that Tsoukernik is aware of, and also cited when he refused to pay lost millions to the former One Drop winner, Elton Tsang).
On where Kirk got his money, the Judge said:
"What does that matter, if he's an independent poker player, where he gets his money from? That's not something that any person gambling is required to tell any other person gambling. How can on the face that be fraud?" 
The casino owner had also named ARIA as a defendant, but the judge said that was a matter for the Gaming Control Board. 
And what's happening as the case rumbles on (not to mention Elton Tsang's lost millions in the Casino Barcelona case)?
The World Series of Poker Europe (WSOPE) hosted their festival at his casino and named him the first player to pay his deposit for the 2018 Big One for One Drop.
partypoker continue to partner with him, with Tsoukernik appearing in cash games organised by the site. And the players continue to play with him, including Gus Hansen, who lost a hand worth half a million dollars to the Czech Casino owner.
When Polk suggested that poker is jaded, he said he had attacked poker as the cause of the malaise, and that it wasn't poker's fault. It is poker's fault. It is.