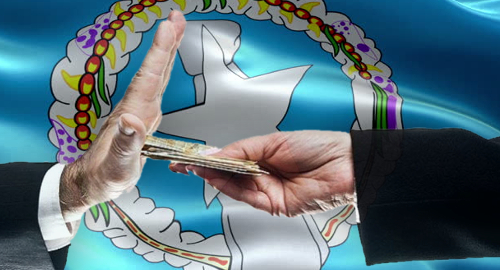 Saipan casino regulators have publicly refuted recent media allegations of corruption, calling them "exaggerated, uncalled for and very unfair."
On Thursday, gaming regulators in the Commonwealth of the Northern Mariana Islands (CNMI) went public with their belief that they had been ill-treated by last week's Bloomberg article alleging millions of dollars in sketchy payments to CNMI officials from Saipan's lone casino operator, Imperial Pacific International Holdings (IPI).
IPI announced this week that it is suing Bloomberg for defamation. On Thursday, the Marianas Variety quoted Commonwealth Casino Commission (CCC) exec director Edward Deleon Guerrero saying the regulator was "looking at the article" and would "consult with our legal counsel" regarding the appropriate response.
The Marianas Variety also reported that the CCC held a meeting on Thursday at which chair Juan Sablan declared "no one here has received anything of value from IPI," while urging the public to come forward with any evidence of regulatory malfeasance "as we don't tolerate such actions."
Vice-chair Joseph Reyes acknowledged that the CCC was a relatively inexperienced group but insisted that they were quick learners who were now "doing a great job." Reyes challenged the Bloomberg scribe "to prove his accusations" because "none of us here are corrupt and I am not corrupt."
Some of the Bloomberg allegations involved payments made by IPI to members of the family of Saipan Gov. Ralph Deleon Guerrero Torres, whose uncle is CCC director Edward Deleon Guerrero. Guerrero said it was misleading to say his family has "a financial stake in IPI's success," because "everyone does, all agencies do … and it's reasonable to expect that all CNMI residents" stand to benefit from IPI's success.
WE'RE HONEST, EVERYONE ELSE IS LYING
Deleon Guererro also revealed the written responses the CCC had provided Bloomberg prior to the article's publication. When Bloomberg questioned the veracity of the astronomical monthly VIP turnover figures IPI used to report before it got publicity shy, the CCC insisted that "the numbers being reported are true" and had been verified by the CCC's Audit and Compliance division.
The CCC also told Bloomberg that the huge VIP turnover figures were the result of the CNMI's "low tax structure" that "dis-incentivizes the tax avoidance schemes believed to be prevalent elsewhere which keep reported volumes lower than actual." The CCC also pointed out that IPI's ownership "stems from one of the largest junkets in Macau," giving it "a very strong network in the VIP market."
(On a related note, Deleon Guererro also said Thursday that the CCC was still investigating junket operators seeking Saipan licenses. Deleon Guererro said the CCC was "looking at the junket process very meticulously" and was consulting with authorities in Las Vegas "to look at the background of these junket applicants.")
FBI BEEFS UP SAIPAN PRESENCE
It could be a coincidence, but the Guam Daily Post reported that Joseph Strantz, the FBI's supervisory resident agent in the CNMI, acknowledged this week that the Bureau had recently increased its number of local agents.
"We are now fully staffed," Strantz told the Rotary Club of Guam, adding that "we've had a lot of attention out here with some of our cases." Asked about the Bloomberg article, Strantz declined to comment as to whether the FBI was probing IPI's activities, but did say that combatting public corruption "serves a very important function in Guam and in Saipan."
Bloomberg had previously reported that US financial watchdogs were probing allegations of impropriety at IPI's temporary casino Best Sunshine Live. In 2017, the FBI conducted an investigation of the main contractor building IPI's permanent gaming venue, the Imperial Pacific Resort.
Comments