Phil Hellmuth may be one of the winningest players ever to have played the game, but he went a different direction with his latest book, "#Positivity."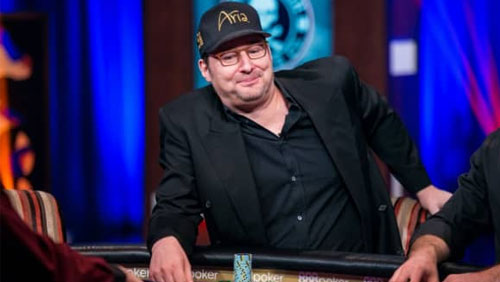 The book was released on Amazon and provides motivational guidance to help readers lead a positive life. The hashtag "#POSITIVITY" has also become somewhat of a signature of the poker pro, who uses it in almost all of his posts on social media platforms. He may mean well by trying to be a motivational guide, but he recently failed in his actions when he stiffed an Uber driver out of a tip.
The driver took to social media to publicly admonish the 14-time WSOP winner, creating a little bit of a stir. After delivering Hellmuth to the airport, the driver jumped on social media to vent: "Bring this dude to airport – acts totally Privileged," she posted. "ordered xl for just him – had heat blasting and interior light on hole [sic] time…not even 1$ tip like ok if I was a poker star I woulda tipped u!"
In a strange head-scratcher, though, the post was accompanied by a selfie, with the driver and Hellmuth both smiling for the camera. Several players decided to rebuke the driver, offering some tongue-in-cheek responses. Max Mitchell posted, "here's a tip honey, dont [sic] call a raise with queen 10." ITTW (InThruTheWindow) then added, "I can dodge tipping baby!"
Not everyone, however, made light of the rant against the Poker Brat. Long-time opponent and rival Daniel Negreanu stepped in and actually defended Hellmuth. "You can accuse @phil_hellmuth of a lot of things, but being cheap isn't one of them from my experience. He has always been generous as far as I know," he said. Perhaps Negreanu read Hellmuth's book and was putting the advice into practice.
Hellmuth is known as one of poker's most colorful players. He earned the nickname Poker Brat for repeatedly having serious meltdowns after losing a hand. He is one of poker's best players, and has accumulated over $21 million in live tournaments. Most recently, he was sent to the rails in sixth place at the Mixed Game Championship at the US Poker Open.
Comments