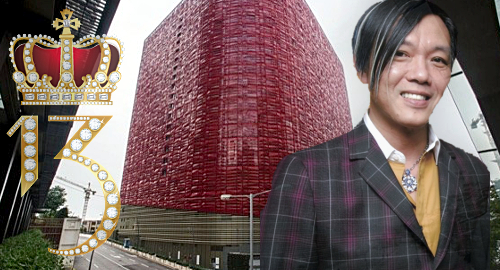 Flamobyant Hong Kong investment banker Stephen Hung has walked away from his ill-fated über-luxurious Macau hotel project The 13.
Late last week, The 13 Holdings informed the Hong Kong exchange that Hung had resigned his positions as the company's joint chairman and executive director, and would no longer sit on any company committees.
The 13 also announced that Pride Wisdom Group, a company said to be jointly owned by Hung, had inked a sales and purchase agreement to transfer 82.5m shares in The 13 Holdings – representing nearly 9% of issued capital – to a company owned by deputy chairman Tom Lau Ko Yuen.
Hung claimed he had "no disagreement" with the company's board and there were "no matters with respect to his resignation that need to be brought to the attention" of shareholders.
Hung's skedaddle followed just one day after The 13 Holdings announced that its planned March 31 opening of its Macau hotel property was being pushed back yet again, this time to sometime on or before April 30.
The 13 was originally conceived as a mecca for Asia's 1%, reflected in the property's original name, Louis XIII, and in the downright decadent costs of its proposed lodging and retail offering. But construction began just as Macau's VIP gambling market began its two-year-plus retreat, and while the VIP market has since rebounded, The 13's problems have only multiplied.
The property was supposed to open in 2016, but this kept getting pushed back. Last July, work was halted due to a liquidity crunch. In October, The 13 Holdings' shares lost half their value after the company revealed it needed to raise more cash, and work ultimately resumed in November. The company's latest announcement warned that "further funding is required for completion" of the project.
Worse, The 13 has yet to secure permission from Macau authorities to operate a VIP casino on the premises. Without a casino, VIPs would have to travel outside the property to gamble, putting a serious crimp in The 13's ability to attract said whales in the first place.
Putting on a brave face, The 13 Holdings' remaining management acknowledged that its April opening might not include gaming, but this "will not affect the opening and the hotel operation of The 13 Hotel."
It goes without saying that the company's February 9th special general meeting is bound to be a lively affair, at which Hung's boy-band haircut and penchant for fleets of Rolls Royce Phantoms won't seem half as endearing as before.