London Blockchain Week is pleased to announce that DreamTeam, IBM, BTCC, IOTA Foundation and Gibraltar Stock Exchange will be headlining the event in January 2018 in London.
Now in its fourth year, London Blockchain Week will bring together between 800-1400 leading international Blockchain thinkers throughout the week comprising of senior audience from enterprise, start-ups, VC firms, media, government and academia. Companies, individuals and governments who are affected by and are taking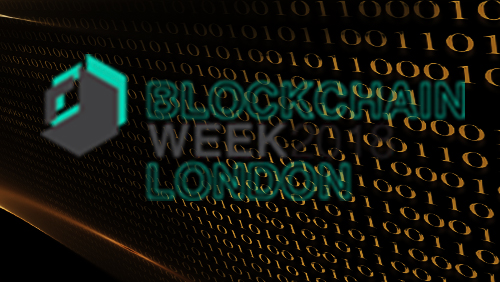 full advantage of the disruptive technology, will discuss the trends and issues they are seeing.
London Blockchain Week takes place in the context of soaring digital currency prices and accelerating testing and implementation of Blockchain platforms in financial services, legal, healthcare and many more sectors.  It is becoming vital for companies to understand the amazing possibilities that come from embracing this technology.
The conference will feature 50 international companies exhibiting over the course of the week, and an additional 25 ICO and Blockchain companies will be pitching during the conference, including Viola.AI, Bethereum, Chainium, CharityStars, Atonomi, Lucyd, Bitcar, NEM Foundation, DeepRadiology, All Public Art and Viewly.
The event will kick off with the Hack-The-Block Blockchain Hackathon at Cocoon Networks on Friday 19 January for the weekend, culminating into a three-day exhibition and conference with networking drinks each evening starting on Monday 22 January, and then a series of Blockchain/DLT workshops on Thursday 25 and Friday 26 January. The exhibition and conference will be taking place at Grange Tower Bridge Hotel in 45 Prescot Street, London.
Commenting on the announcement, co-founder of London Blockchain Week, Luis Carranza, said: "With bitcoin and other digital currencies' price rocketing, and the underlying Blockchain technology having a huge impact on all sectors, now is the time to come and meet the companies that are driving these changes, and discuss and debate the future of Blockchain."
CEO and & Founder of DreamTeam, Alexander Kokhanovskyy added: "DreamTeam is proud to be among the leaders of the Blockchain industry and join over 50 international companies at London Blockchain Week. This event will let us showcase the latest advances in the application of smart contracts and Blockchain technology in esports and its prospects for the industry to an international audience."
For more information, please visit, www.blockchainweek.com
If you would like to sign-up as a media attendee or have any questions, please contact:
Rebecca Parlby / George Pitt
Lansons
[email protected] / [email protected]
020 7566 9758 / 020 7294 3626
Headline speakers:
Alexander Kokhanovskyy, CEO & Co-Founder, DreamTeam
Jason Kelley, General Manager, IBM Blockchain Services, IBM
Bobby Lee, CEO, Co-Founder, BTCC
Dominik Schiener, Co-Founder, IOTA Foundation
Philip Young, Marketing Director, Gibraltar Stock Exchange (GSX Limited)
Key sponsors:
DreamTeam – Title Sponsor
The first esports and gaming recruitment and management platform that uses Blockchain and smart contracts to unlock a multi-billion dollar economy based on DreamTeam token
Abt Associates and Bank of PNG (Papua New Guinea) – Hackathon Sponsors
Abt Associates is an engine for social impact, harnessing the power of data and grounded insight to bring people from vulnerability to security worldwide. We provide research, consulting and technical services globally, working in the areas of health, environmental and social policy and international development.
Gibraltar Stock Exchange (GSX and GBX) – Gold Sponsor
The Gibraltar Stock Exchange (GSX) is licensed by the Financial Services Commission (the Gibraltar regulator and competent authority) and has been open since 2014. GSX operates two markets: the Main Market, an EU regulated market recognised by ESMA and by the United Kingdom's tax authority (HMRC) under S1005 (1)(b) Income Tax Act 2007; and the Global Market, a self-regulated market which is a Multilateral Trading Facility (MTF) as defined under the Markets in Financial Instruments Directive 2004 (MiFID). GSX has launched its latest initiative the Gibraltar Blockchain Exchange (GBX), a subsidiary which is building a cryptocurrency exchange and a token sale platform.
BitFlyer – Gold Sponsor
Virtual currency exchange and blockchain related services
Comments